Bank Nifty Signals More Fall! - Post-Market Analysis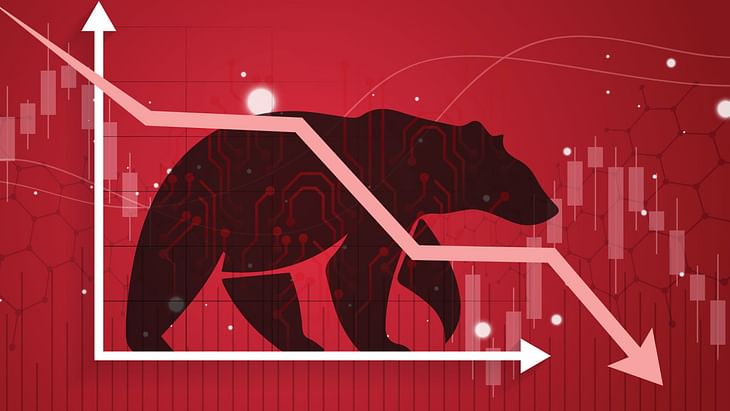 NIFTY opened the day at 17,755 with a gap-down of 71 points. The opening below 17,800 brought more negativity and the index fell 230+ pts to the day's low. NIFTY closed the day at 17,554, down by 272 points or 1.5%.
BANK NIFTY started the day at 40,494 with a gap-down of 179 pts. The index was in a clear downtrend and it fell below 40k, but took support from the 39,900 level. The index closed at 39,995, down by 677 points or 1.6%.
NIFTY Metal (-2.64%), NIFTY Media (-1.93%), and NIFTY PSU Bank (-1.91%) fell the most today.
Major Asian markets closed in the red. European markets are trading in the red.
Today's Moves
Reliance (-2.2%), HDFC (-1.8%), HDFC Bank (-1.9%), ICICI (-1.7%), and Infosys (-1.1%) dragged NIFTY the most.
Pharma stocks Aurobindo Pharma (+2.2%), Glenmark Pharma (+1.6%) showed strong gains today.
ITC (+0.42%), Bajaj Auto (+0.09%), and Divis Lab (+0.07%) rose in a very bearish market.
Adani Ent (-10.5%), Adani Ports (-6.19%), Adani Trans (-5%) crashed after reports claimed that the group systematically manipulated its Wikipedia entries using sock puppet accounts and undisclosed paid editors.
Delhivery (-3.6%) fell after shares worth ₹410 crore exchanged hands in a block deal.
Markets Ahead
This is the lowest closing level for Nifty since October 19, 2022. We were waiting for a trigger and it came from the U.S. as they closed with a loss of 2% yesterday (the biggest fall of the year!).
The fall in the U.S. markets was severe because of fears of further interest rate hikes. The reasons triggers were:
Inflation rates are reacting to interest rate hikes and are slowly moving down.
Falling unemployment rates.
FOMC meeting minutes will be released today
U.S. markets opened after three days of holiday.
Concerns of continuation of cold war between Russia and the U.S
Please note: the real reason might come only after the fall.
India VIX rose by 10% and is now above 15.
Bank Nifty's chart of this Monday was indicating a good fall with momentum. And we were considering 40,480 as the deciding level. Today, the index faced resistance from that level just after opening and it fell below 40,000 towards the end.
The intraday structure in Bank Nifty is indicating more fall in the coming days. If the fall continues, we can watch the 39,400-500 zone and 38,800 level as supports.
Reliance giving up the gains is a very big concern and I don't want it to fall below the 2360 level.
The minutes of the U.S. Federal Open Market Committee's (FOMC) minutes will be out at 12:30 am! It will give clues on the central bank's further interest rate-hike path.
What are your expectations for expiry tomorrow? Let us know in the comments section of the marketfeed app!
Post your comment
No comments to display