Auto Ancillaries Industry in India: An Analysis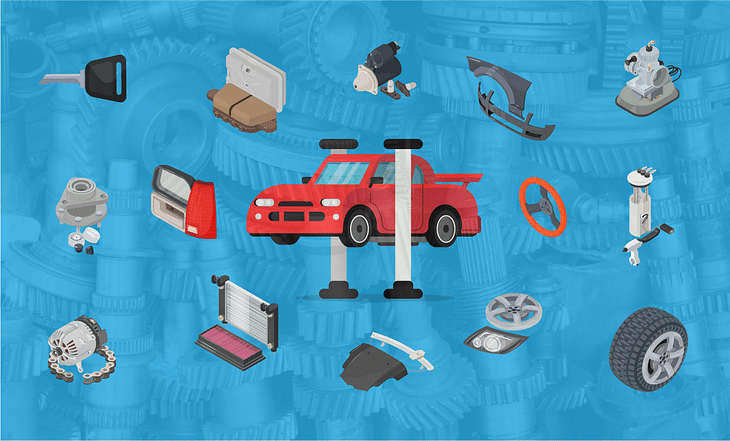 After months of production slowdown and decline in demand amidst the Covid-19 pandemic, the automobile industry in India is now witnessing a strong recovery. This is very evident from the December sales data of automobile manufacturers that were released last week. Almost all companies posted a healthy increase in their sales.
As we know, the process that goes into the manufacturing of vehicles is very complex. The cars and two-wheelers that are sold in the market today include very sophisticated electronic or digital features. Thousands of components or parts need to be sourced from different manufacturers, which are spread all around the world. Thus, automakers are heavily dependent on the firms that produce essential auto ancillary components. Let us take a look at some of the main listed companies that fall under the automotive components industry.
Motherson Sumi Systems
Motherson Sumi Systems Ltd (MSSL) is a joint venture between Noida-based Samvardhana Motherson International Ltd and Sumitomo Wiring Systems Ltd of Japan. It is engaged in the manufacturing and sales of components to the automotive original equipment manufacturers (OEMs) in India and also internationally. MSSL is one of the world's largest manufacturers of electrical wiring harnesses for commercial vehicles and rearview mirrors for passenger cars. It is also a leading supplier of plastic modules and components in Europe and India.
The company has established a very strong customer base in Germany, the USA, France, Mexico, China, and many more. Some of the prominent clients of MSSL include the Daimler Group (Mercedes-Benz), Audi, Volkswagen, BMW, Renault, Ford, and Maruti Suzuki. Thus, we can see that Motherson Sumi has created synergies with some of the greatest automobile manufacturers in the world.
In the previous financial year (FY20), MSSL initiated a dedicated 5-year plan that focuses on obtaining a total revenue of $36 billion (~Rs 2.62 lakh crore) by 2024-2025. The company also stated that 40% of its consolidated profits at the end of 5 years would be provided as dividends. Motherson Sumi plans to fund its growth by utilising its reserve of profits and also raising debts.
Financial Performance
Over the past 5 years, the company has registered a consistent increase in revenue and profit. Its consolidated revenue for FY 2019-2020 stood at Rs 63,925 crore. Over the past 5 years, MSSL's revenue has grown at an annual rate of 12.74%, whereas the industry average revenue stood at 6.96%. The company has been able to establish a market share of 34%. During the second quarter of FY21, MSSL reported a 2.7% YoY increase in consolidated net profit at Rs 388 crore. The company stated that it was seeing a huge surge in the demand for auto components all across the globe.
Since the beginning of FY21, the share price of Motherson Sumi Systems has risen by 190%.
Sundaram Clayton
Sundaram Clayton Ltd (SCL) is part of one of the largest conglomerates based in India- the TVS Group. SCL was founded in 1962 in collaboration with UK-based Clayton Dewandre Holdings plc. The company manufactures and markets machined and sub-assembled aluminium castings for the automotive industry. SCL's product range includes flywheel housing, gear housing, clutch housing, filter heads, and much more. It provides these components for the heavy and medium commercial vehicle, passenger car, and two-wheeler markets. The company's customer base includes prominent automakers such as Hyundai, Volvo, and Honda.
In 2019, SCL inaugurated its first overseas production facility in the United States by investing Rs 630 crore. Through this facility, the company plans to serve its customers in North America, which is its biggest export market. During the same year, the company inaugurated its new foundry at Oragadam, near Chennai. This major capacity expansion aims to meet the rapidly growing demand for its products from the automotive industry and will primarily serve Hyundai Motor India Limited.
Financial Performance
Over the past 5 years, SCL's revenue has grown at a yearly rate of 11.73%, as compared to the industry average of 6.96%. The company has been able to establish a market share of 10.79%. Till FY 2019, the company had been registering a consistent increase in its overall revenue. However, there was a small decline in revenue during the previous financial year (FY20)- which was reported at Rs 19,914 crore.
Sundaram Clayton's share price has seen a surge of 75% since the beginning of the financial year 2020-2021.
Endurance Technologies Ltd
Endurance Technologies Ltd is a leading manufacturer and supplier of automotive components for OEMs in the automotive industries of Europe and India. It was founded in 1985 and is based in Aurangabad. The company primarily offers die castings, which are used to create complex parts for vehicles. It also manufactures components for engines, gearboxes, and transmission parts. Other products include suspension products, including hydraulic, mono, shock absorbers, steel wheel hubs, head axles, cross members, and steering housings. The company offers its products for use in two, three, and four-wheelers, as well as scooters and quadricycles. One of my favourite companies in this list, they supply to Bajaj Auto, Hero MotoCorp, Royal Enfield and Honda in India. European clients include Volkswagen and even Porshe.
Financial Performance
The company's consolidated revenue during FY20 stood at Rs 6,965 crore. There had been a fall in both revenue and profit as compared to the previous financial years. Over the last 5 years, its revenue has grown at a yearly rate of 7.07%, whereas the industry was at 6.96%. Endurance Technologies has been able to establish a market share of 3.77%
Since April 2020, the shares of Endurance Technologies has increased by 137%.
Bosch Ltd
Bosch Ltd manufactures and trades in automotive products in India, as well as internationally. The company was founded in 1951 and is headquartered in Bengaluru. It is a subsidiary of Robert Bosch GmbH, a German multinational engineering and technology company. Interestingly, the Bosch Group operates in India through a total of 13 companies.
Bosch offers powertrain solutions (including gasoline and diesel injection products) and electrified drives with battery and fuel cell technologies in the electric vehicle, passenger car, and commercial vehicle market segments. It also provides automotive aftermarket services such as auto diagnosis and repairs. Bosch is well known for its power tools and measuring technologies. They also offer professional audio and communications solutions for the automotive industry.
Recently, Bosch Ltd claimed that it has secured orders worth €2.5 billion for its vehicle computers since 2019. The company also announced plans to start full-scale production of distributed power stations based on solid oxide fuel cell (SOFC) technology in 2024. It has continued investment in its restructuring & reskilling strategies and also for other transformational projects.
Financial Performance
The company's consolidated revenue for FY20 stood at Rs 10.45 crore. As compared to the previous financial years, the company had posted a significant decline in its revenue and profit. Over the past 5 years, Bosch Ltd's revenue has grown at an annual rate of -3.74%, whereas the industry average is 6.96%. During the same period, the company's market share decreased from 8.27% to 5.66%. It reported a consolidated net loss of Rs 64.57 crore for the quarter ended September (Q2 FY21).
Since the beginning of FY21, the share price of Bosch Limited has increased by over 50%.
Conclusion
We have only mentioned four top companies that fall under the category of auto component or parts manufacturers. Other prominent listed firms in this category include Minda Industries, Varroc Engineering, Sundaram Fasteners, Schaeffler India, and Wabco India. Bharat Forge Ltd, which is part of the Pune-based Kalyani Group, is also one of the largest exporters of automotive components from India. These companies have partnered with some of the biggest automakers around the world. The different components that you see on your cars or two-wheelers today would have been made by these firms.
According to a study conducted by the India Brand Equity Foundation (IBEF), the automotive components industry registered a CAGR of 6%, reaching $49.3 billion in FY20. Exports grew at a CAGR of 7.6% during 2016-2020, to reach $14.5 billion during the same financial year. It was found that this industry accounted for 2.3% of India's Gross Domestic Product (GDP) by 2020. According to the Automobile Component Manufacturers Association (ACMA), automobile component export from India is expected to reach $80 billion by 2026. Thus, we can see that this industry is vital not just for automobile manufacturers but also for the overall economic development of our country. 
We can see that these companies are investing heavily in their research and development (R&D) activities. They are constantly introducing new components in the market to meet the rising demand of the automakers. Most companies are now making a shift towards the production of electric and hybrid cars. This would lead to greater demand and more opportunities for auto-component manufacturers. Let us look forward to seeing how these firms plan to expand their production and sales in the years to come.
Post your comment
No comments to display