Australians are Protesting Adani, Here's Why.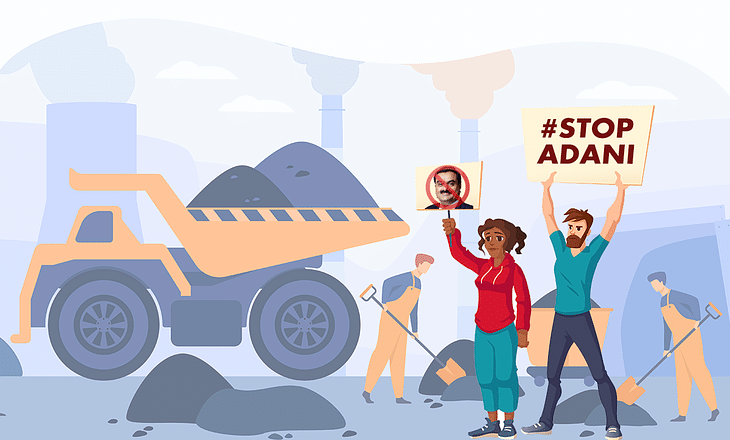 The Adani Group is an Indian multinational conglomerate that deals in Petroleum, Gas, Power, Green Energy, Infrastructure, etc. The group led by industrialist Gautam Adani has been in a stir in the past for tax evasion, charges of corruption, and environmental degradation. Moreover, Australians are hating on Adani, protesting, and trying to stop him from operating there. Let's find out why.
What is Adani Doing in Australia?
Why do the Australians Not Want Adani?
What is Adani Doing in Australia?
The Adani group in Australia is working on the following:
Carmichael Rail Project, a 200 km rail project, which will be used for passenger and freight transport, mostly coal from the Carmichael Coal Mine.
Running two major solar power plants with a total capacity of 194 Mega Watts.
The Abbot Point Terminal, which is a cargo handling shipyard on the coast of Queensland.
Lastly, The Carmichael Coal Mine Project, which the center of all the controversies and protests in Australia.
Adani took an opportunity to learn the politics of Queensland. As the elections neared, Adani set sail. It got the politicians of the Australian Labor party to convince the citizens about how unlocking the Carmichael Coal Mine can lead to economic development in the area. Adani and its lobbyist held public meetings to convince the locals on how India's demand for coal can fuel fortune for Queensland.
The Carmichael Coal Mine project is expected to cost A$2 Billion(Australian Dollars) and close to 2000 jobs in the region. Moreover, both the state and federal governments at the time had even given subsidies to fuel the Carmichael coal mine and railway line project.
These are the major projects being handled by Adani, in Australia. But clearly the locals are not happy with the company's proceedings. Let us see why!
Why Do Australians Not Want Adani?
The Carmichael Coal Mine Project is the reason why there are mass protests against Adani. According to the website www.stopadani.com, the reasons for the protest against the coal mine project and Adani is as follows:
It allows more than 500 coal ships to travel through the Great Barrier Reef World Heritage Area every year for 60 years. Coal being a pollutant could damage the reef and aquatic life.
They get access to 270 billion liters of Queensland's precious groundwater for 60 years, for free.
It adds 4.6 billion tonnes of carbon pollution to our atmosphere.
The coal project unlocks the Galilee Basin, a 2.47 lakh square kilometer thermal coal basin, which is primarily untouched ecologically.
These are not the only reasons however, these are simply environmental risks associated with the project. There is more as to why the Australians do not want Adani in the country and that is Adani's bad reputation.
Speculations suggest that there is a political motive of the Australian Labor Party behind it. However, Adani doesn't have clean hands either, a website called AdaniFiles, states that this could be "a dodgy setup for dodging taxes" linking Adani's Australia project and his offshore assets in the Cayman Islands.
Adani has been fined by Australia's regulators for misinformation. Additionally, Adani is a part of controversies such as the Belekeri Port Scandal, 2011 Mumbai Oil Spill Case, Zambia KCM Pollution Case, Jharkhand Land Grabbing Case, and other countless legal and regulatory battles. Adani's massive lobbying and contacts with the Indian government has given him a clean cheat for most of its wrongdoings.
Adani was caught up in the news for hiring a private investigator to spy on a nine-year-old girl. Yes, imagine this. How much more creepy can this company be? She is the daughter of an environmental activist who was a part of protests against Adani in Australia.
This is what the Australians fear. Adani's disregard for regulatory authorities and the environment. They fear that Adani might commit an economic, environmental, and/or financial atrocity and get away with it.
To know more about why Australians are protesting against Adani along with the legal and regulatory developments, You can visit:
Even though the website names are funny and catchy, the topics discussed and the fight are indeed serious. The Adani Group is creating problems in India, as well. We can observe how this rapidly growing company continues to make problems everywhere it goes. Next day, we can also talk about the current protests in Goa, and how Adani is involved there too!
Post your comment
No comments to display