Atul Auto Forays Into EV Market - Top Indian Market Updates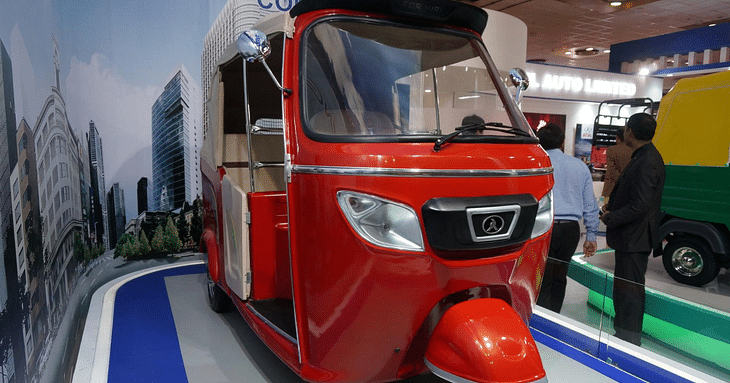 Here are some of the major updates that could move the markets tomorrow:
Atul Auto launches two electric three-wheelers
Three-wheeler maker Atul Auto has entered the electric vehicle (EV) space by launching two models at the Auto Expo 2023. Atul Greentech Pvt. Ltd (AGPL), a subsidiary of Atul Auto, launched Mobili (a passenger vehicle) and cargo variant Energie. Both Mobili and Energie are built with industry-leading technology, telematics, and Battery Management Systems (BMS).
Read more here.
Dr. Reddy's Labs partners with Theranica for marketing wearable Nerivio in India
Israeli digital therapeutics company Theranica has announced a strategic license and supply agreement with Dr. Reddy's Laboratories Ltd., for the exclusive marketing and distribution of its FDA-approved Nerivio in India. Nerivio is a wearable migraine treatment that stimulates the body's pain receptors to relieve acute and chronic migraine pain. The agreement includes licensing fees for exclusive rights to market Nerivio in India.
Read more here.
Govt to invite bids for Concor privatisation this month
The government will invite Expressions of Interest (EoIs) or preliminary bids for privatising Container Corporation of India (Concor) in January. In Nov 2019, the Union Cabinet approved the strategic sale of a 30.8% stake (along with management control) in Concor. The government will retain a 24% stake post-sell-off but without any veto powers.
Read more here.
Reliance Jio launches 5G in Uttarakhand
Reliance Jio has launched its True 5G services in Uttarakhand. Jio consumers in Dehradun can avail of the Jio Welcome Offer, which includes unlimited data at up to 1 Gbps+ speed at no extra cost. Apart from the existing investment of Rs 4,950 crore, Jio will additionally invest over ₹650 crore in the deployment of a standalone 5G network in the state.
Read more here.
IEX's ₹98 crore share buyback opens today
Indian Energy Exchange's (IEX) share buyback program worth ₹98 crore opened on Wednesday. The company will buyback 49 lakh equity shares (of a face value of ₹1 each) at a maximum price of ₹200 per share. The share buyback will close on July 10. IEX is India's first power exchange that provides an automated trading platform for electricity and renewable energy certificates.
Read more here.
USFDA issues warning letter to Sun Pharma's Halol unit
The US Food & Drug Administration (USFDA) has issued a warning letter to Sun Pharmaceuticals, specifying violations of norms in its manufacturing facility at Halol, Gujarat. The drug regulator noted that Sun Pharma failed to establish and follow appropriate written procedures. The procedures have been designed to prevent microbiological contamination of drug products. The Halol unit was placed under import alert on Dec 7, 2022.
Read more here.
Oil refiners hope for ₹50,000 crore cash compensation from govt on fuel price freeze: Report
According to a CNBC-TV18 report, state-run oil marketing companies (OMCs) like HPCL, BPCL, and Indian Oil Corporation are seeking compensation of up to ₹50,000 crore to cover up for the losses they have incurred due to the freeze in fuel prices. The OMCs are demanding this compensation to make up for the losses incurred in the first half of the current financial year (H1 FY23).
As an immediate measure, companies are of the view that diesel prices can be hiked by ₹2-3 per litre.
Read more here.
Commercial loan origination volumes decline 4.3% in FY22: Report
According to a report from Crif High Mark (a credit information company), commercial lending origination volumes declined by 4.3% YoY to 22.2 lakh loans in the COVID-affected FY22. Loan originations in terms of value jumped 73% to ₹66.49 lakh crore. The average ticket sizes for commercial loans across lenders witnessed a huge spike during the year, with state-owned lenders reporting the number at ₹3.34 crore in FY22.
Read more here.
Reliance Communications' committee of creditors to meet on Thursday
The Committee of Creditors (CoC) of bankrupt Reliance Communications will meet on Thursday as part of a long-standing insolvency process. RCom, which housed Anil Ambani's telecom business, has been undergoing corporate insolvency resolution for over four and a half years. The company was sent to the bankruptcy courts in May 2018 and started the insolvency process under the Insolvency & Bankruptcy Code (IBC) in 2019.
Indian banks, vendors, and creditors have claimed ₹86,000 crore in dues from RCom.
Read more here.
Post your comment
No comments to display