Ashneer Grover Vs. BharatPe Controversy: Know More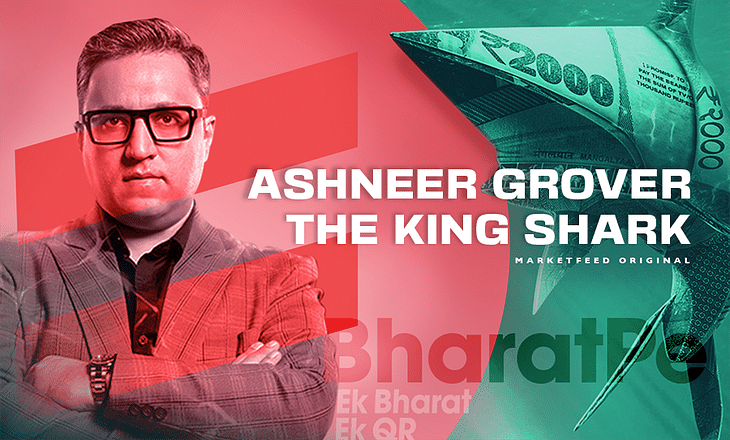 The TV Show Shark Tank has taken India by storm. It has brought about a revolution in the mindset of an average Indian. While startups and valuation were a 'sophisticated' or 'complex' topic, they have become the talk of the town. One of the sharks or investors in the show is Ashneer Grover, the founding member and Managing Director of BharatPe. He has recently been in the limelight for several reasons. One of them being his friction with the Board of Investors and the CEO of BharatPe. The meme world has been talking about Ashneer's characteristic and distinctive views on the business reality television series Shark Tank. In this piece, let us take a look into the life of Ashneer Grover.
Life Before BharatPe
Ashneer Grover was born in Delhi on June 14, 1982. For a 'perfect' academic background, Ashneer went to the Indian Institute of Technology, Delhi, and went ahead to get his business degree from the Indian Institute of Ahmedabad.
Ashneer was amongst the six students selected by IIT Delhi, in a batch of 450, for the Exchange Program with the University of INSA-Lyon in 2002. The French Embassy awarded him a scholarship of €6000.
Ashneer worked with Kotak Investment Banking and American Express in the following years. He was the Chief Financial Officer at Grofers, where he built the company with the founders - Albinder Dhindsa and Saurabh Kumar. He then became the Head of New Business at PC Jewellers, where he led strategy and digital transformation.
BharatPe It Is!
Finally, it was BharatPe! In 2018, Ashneer Grover met Shashvat Nakarn, an IIT Delhi Student at a tech event where they discussed the challenges faced by the fintech industry. Three months later, they co-founded BharatPe.
BharatPe is a fintech company headquartered in New Delhi. It offers three business segments - 1) Interoperable QR code for UPI payments, 2) Bharat Swipe for card acceptance, and 3) loans for small merchants.
BharatPe recently raised USD 370 million from New York-based Tiger Global and others at a valuation of USD 2.85 billion. In partnership with Centrum Finance, the company has also obtained a Small Finance Bank License from the RBI. It plans to dive into micro financing through this licence.
Ashneer is an active venture capitalist and has nearly 18 startups in his portfolio. His net worth is estimated to be around Rs 21,300 crore.
Stirring Controversy
An audio clip surfaced on social media allegedly indicating an argument between Ashneer Grover, his wife, and an employee of Kotak Mahindra Bank. In the clip, Ashneer is allegedly heard using expletives against a bank employee for failing to obtain an allotment of Nykaa shares during its IPO. Ashneer has claimed on social media that the clip is fake,
There have been claims that the Board of BharatPe is investigating Ashneer Grover, his wife Madhuri Jain Grover, and many more over governance issues. Ashneer Grover then decided to take a leave of absence for the time being. "After much deliberation, I plan to take a temporary leave of absence from BharatPe till March-end. I will return on or before April 1, 2022," he said in a statement.
According to some news sources, the board of investors wants Ahneer Grover to leave BharatPe. On the other hand, Ashneer Grover called for the removal of BharatPe CEO, Suhail Sameer. He believes that the Suhail manipulated Ashneer into going on a leave of absence and thereby sided with the investors. Ashneer Grover has said that he wouldn't mind leaving BharatPe, provided the board of investors buys his share in the company for nearly Rs 4000 crore.
Ashneer Grover has been an entrepreneur par excellence. His peculiar style of communication has taken the meme world by storm. While his presence was well established in the startup world, his appearance on Shark Tank made him a household name. Grover's brainchild, BharatPe, has revolutionized digital payments for small merchants in India. BharatPe has indeed created a positive social impact, something which we might find at our corner grocery shop or even a fruit seller with a basket.
Post your comment
No comments to display