Analysing a $13 Billion Business Empire: JSW Group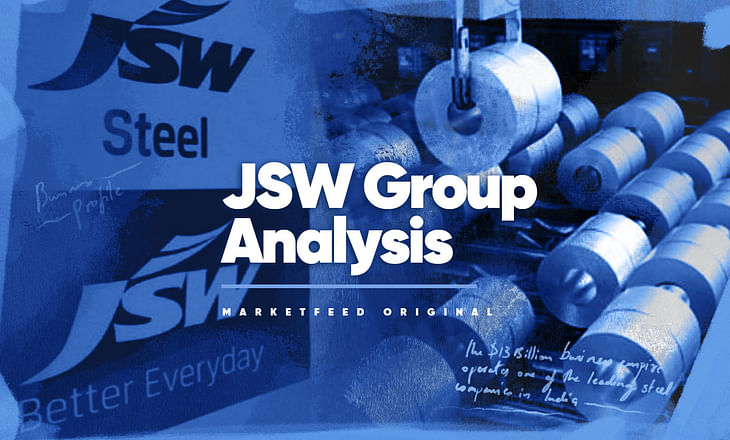 Since its inception around 39 years ago, the JSW Group has become one of the most respectable and fastest-growing conglomerates in the world. The $13 billion (~Rs 97.250 crore) business empire operates one of the leading steel companies in India. It even owns some of our favourite sports teams. In today's article, learn more about the JSW Group and the various businesses they operate.
Business Profile - JSW Group
JSW Group was established in 1982 and is headquartered in Mumbai. The group was initially known as Jindal South West. It is part of the O.P. Jindal Group, which has business interests in mining, power, industrial gases, and steel manufacturing. It is founder Om Prakash Jindal's four sons that run the business empire now.
Over the years, the JSW group has formed a strong presence in the steel, energy, infrastructure, cement, paints, venture capital, sports, and realty sectors. They have a successful track record for executing large capital-intensive and technically complex projects globally. The group offers a differentiated product mix and state-of-the-art manufacturing facilities. Moreover, they have a prime focus on pursuing sustainable growth. The JSW Group has an experienced management team, led by Mr. Sajjan Jindal (Chairman).
It has a culturally diverse workforce spread across India, the US, Europe, UAE, and Africa and directly employs ~40,000 people. JSW Group has a strong social development focus aimed at empowering local communities residing around its Plant & Port locations. They are known for creating value for all stakeholders by combining its growth roadmap and superior execution capabilities. The group's sports arm (JSW Sports) aims to play a leading role in creating a sports culture in our country by maximising the potential of Indian sports and athletes. It owns teams such as Bengaluru FC (ISL), Delhi Capitals (IPL), and Haryana Steelers (Pro-Kabaddi).
JSW Steel Ltd
JSW Steel is engaged in the manufacturing and distribution of iron and steel products in India and across the globe. Established in 1982, the company primarily produces hot-rolled and cold-rolled coils. It provides color-coated products, Thermo Mechanically Treated (TMT) bars, wire rods, and special alloy steel products. Their products are used in automotive, general engineering, machinery, and projects, and construction applications. It exports these products to more than 100 countries.
The large-cap company has a crude steel capacity of 18 million tonnes per annum (MTPA) as of FY21. It had announced an investment of $3.4 billion to expand capacities in line with domestic and global demand trends. Thus, JSW Steel expects to increase its capacity to 37.5 MTPA by FY 2024-25.
Financial Performance
The company posted an 8.8% year-on-year increase in sales revenue to Rs 79,839 crore in the previous financial year (FY21). Net profit surged 96.3% YoY to Rs 7,911 crore during the same period.
JSW Steel's revenue and net profit rose 8.5% quarter-on-quarter (QoQ) and 40.63% QoQ, respectively, in Q1 FY22.
Over the last five years, JSW Steel's total revenue has grown at a CAGR of 14.03%, whereas the industry average stood at 8.97%. It has obtained a market share of 16.18% in the highly competitive iron and steel industry.
The company has maintained a healthy dividend payout of 18.67%. It means that JSW Steel usually sets aside ~18.67% of its earnings to be paid as dividends.
The shares of JSW Steel Ltd have surged over 129% over the past year
JSW Energy
JSW Energy is one of the leading power companies in India. With transparent operations, strict corporate governance norms, and a clear vision, the company is setting benchmarks in the power sector. It has a strategic approach to expansion, ensuring diversity in geographic locations and fuel sources. Over the past six years, JSW Energy has enhanced the power generation capacity from 260 megawatts (MW) to 4.6 gigawatts (GW). They aim to increase capacity to 10 GW by the financial year 2024-25 (FY25) and 20 GW by FY30.
The company's power generation capacity stands at ~4,559 MW, which includes 3,158 MW of thermal power, 1,391 MW of hydropower, and 10 MW of solar power. It has operations in Karnataka, Maharashtra, Rajasthan, Himachal Pradesh, Andhra Pradesh, and West Bengal. JSW Energy also engages in power transmission and trading activities worldwide. It also conducts coal mining operations in South Africa.
Financial Performance
Unfortunately, JSW Energy's financial performance has been quite poor.
The company reported a 16.3% YoY decline in total sales revenue to Rs 6,922 crore for the financial year ended March 31, 2021 (FY21). Net profit fell 28.3% YoY to Rs 795 crore in FY21.
However, JSW Energy was able to improve certain financial metrics in the previous quarter. JSW Steel's revenue and net profit rose 10% QoQ to Rs 1,728 crore in the April-June quarter (Q1 FY22). Net profit jumped 87.85% QoQ to Rs 201 crore during the same period.
The company's revenue has grown at a CAGR of -6.73% from FY15 to FY21, whereas the industry average stood at 5.3%. It has only been able to obtain a market share of 4.01%, which is likely to decline further.
JSW Energy has been maintaining a healthy dividend payout of 26.61%.
The investors of JSW Energy Ltd have received a staggering return on investment (RoI) over the past year. The company's shares have rallied by 574.6% since October 2020.
JSW Holdings
JSW Holdings Ltd is a non-banking financial company (NBFC). It primarily engages in investing and financing activities.
The company's total revenue declined by 23.3% YoY to Rs 92.81 crore in the previous financial year (FY21). Net profit fell 29.34% YoY to Rs 75.20 crore during the same period.
JSW Holdings recorded a minor improvement in financial performance in Q2 FY22.
The firm is almost debt-free.
Revenue has grown at a yearly rate of 13.01% over the past five years. The asset management industry's average revenue growth during the same period stood at 12.91%.
JSW Holdings Ltd's shares have surged 108.4% over the past year.
Other Group Firms
Conclusion
JSW Group has played a significant role in the development of our country. Their presence in multiple sectors such as steel, cement, and paints gives them a unique advantage of providing an integrated offering to large customers in the Infrastructure & Building industries space. The group firms continue to secure large orders from prominent automotive firms, realty companies, and government agencies around the world. They have recently initiated a digital strategy to enhance their distribution network, customer experience, and supply chain across the core businesses.
The group's commitment to giving back to society is highly commendable. The JSW Foundation works towards improving the lives of millions across 1,000 villages in 9 states in India. Let us look forward to seeing how they execute strategic plans in the near future.
Have you included any of the JSW Group companies in your portfolio? Let us know in the comments section of the marketfeed app.
Post your comment
No comments to display