An Overview of India's Booming OTT Market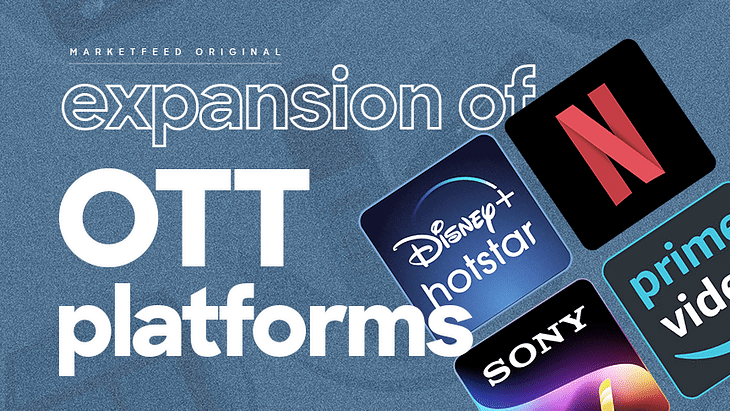 India is a complex market when it comes to paying for entertainment. Digital content consumption is rapidly growing as a result of easy access to smart devices and affordable mobile data plans. Since the transition from Doordarshan to Direct-to-Home (D2H) to OTT platforms, the content consumption behaviour of Indians has undeniably evolved. According to an Eros Now-KPMG report, an over-the-top (OTT) viewer in India spends approximately 70 minutes per day on video streaming platforms, with a consumption frequency of 12.5 times a week!
In this article, we examine how OTT is continuously altering the dynamics of the media & entertainment industry in the Indian scenario.
Origin of OTT Platforms in India
OTT stands for "over-the-top," as in going above and beyond streaming cable networks or YouTube. BIGFlix was the first independent Indian OTT platform in India, launched by Reliance Entertainment in 2008.
In 2010, Gurugram-based Digivive launched the first OTT mobile app in India, nexGTv. It offers live TV and on-demand content. nexGTV was the first app to stream live Indian Premier League matches on mobile devices in 2013 and 2014. Hotstar has seen significant growth in India since acquiring IPL live-streaming rights in 2015.
When DittoTV (Zee) and SonyLiv both debuted in the Indian market around 2013, OTT experienced substantial momentum in India. DittoTV was an aggregator platform containing shows across popular media channels, including Star, Sony, Viacom, Zee, etc.
There are currently about 46 providers of over-the-top media services in India that distribute content over the internet.
How Big is the OTT Market in India?
In the 1980s, the rapid growth of video cassette recorders and players (VCRs/VCPs) challenged the established modes of viewing cinema. However, the rise of multiplexes in large cities in the early 2000s effectively killed the DVD industry and single screens. Now, the popularity of OTT platforms is wreaking havoc on multiplexes.
According to a report published by Media Partners Asia (MPA), the Indian OTT streaming video market is currently in its second growth phase with total revenues of $3 billion in 2022. So far, OTT has captured 7-9% of the entertainment industry's share and revenue. With over 40-odd players offering original content in all languages, the industry is expanding quickly and consistently. There are currently over 45 million OTT subscribers in India. This figure is expected to reach 50 million by the end of 2023.
The OTT market is set to become a ₹12,000-crore industry by 2023 at a compound annual growth (CAGR) of 36% (from ₹2,590 crore in 2018).
Reasons Behind Strong Growth of OTT Platforms
The rapid adoption and evolution of internet infrastructure have contributed to the enormous popularity of OTT in India. These factors enable OTT platforms to deliver content directly to the viewers, bypassing traditional distribution and media networks.
As people were confined to their homes due to the Covid-19 pandemic, OTT platforms gained acceptance and popularity. It has helped people overcome boredom.
OTT platforms offer more than just the ability to stream media on the go. One can stream ad-free services at a low cost and download videos in multiple languages to watch offline on their devices.
Several television shows and films are available on streaming platforms much before they are broadcast on television. It is an ideal medium for first-time film or web series fans to take their enthusiasm to new heights.
A seamless viewing experience across multiple devices is a must-have feature for OTT platform owners looking to build a loyal fan base and subscriber base. Another important factor that has contributed to the streaming industry's ever-growing customer base is the multi-screen OTT experience.
Quality and Fresh Content— People are drawn to these platforms since they are tired of conventional Indian TV serials, which seem to go on forever.
OTT provided opportunities for creators and artists who had lost their relevance due to a shift in cinema or entertainment. Many have reclaimed their place in the spotlight.
Challenges Faced by OTT Platforms
Security and privacy are the two most pressing issues for OTT platforms. User information saved on their platforms during sign-in or search history should not be exploited for illegal purposes.
The lack of censorship is another issue with OTT services. Children can be exposed to a wide range of inappropriate content.
People with poor internet connections will not be able to enjoy a smooth viewing experience.
Viewers may quickly become addicted to OTT platforms due to the wide range of content offered, resulting in a limited social life. Password sharing is another major issue hurting OTT platforms' revenues.
As more individuals access digital platforms to stream content, OTT platforms are losing up to 30% of their annual revenue to piracy. These pirated websites provide all forms of digital content as soon as they are released in OTT.
The ad-free content available on OTT platforms is a significant benefit for viewers. However, this appears to be changing, as Netflix is now looking to include ads to increase revenue. This will be concerning for viewers because they are paying for premium services and won't have the choice to skip ads.
Different OTT Platforms Available in India:
Indians now have a variety of options when it comes to OTT services. Netflix, Amazon Prime Video, Disney+ Hotstar, ALTBalaji, Zee 5, Aha, Voot, SonyLIV, Viu, Hoichoi, etc are the prominent OTT providers. All these platforms differ in terms of subscription plans and compatible devices.
Despite Hotstar and Amazon Prime Video dominating the sphere of OTT platforms, there has been exponential growth in aggregated OTT services such as TATA Play Binge. It provides access to more than 16 apps, including Disney+ Hotstar, MX Player, Voot, Zee5, and SonyLIV. The mergers of ZEEL and Sony, as well as Jio Cinema OTT and Viacom 18 Media, may pose a threat to Netflix and Amazon Prime's dominant positions.
Future of OTT Platforms in India
Media & entertainment is one of the fastest-growing industries in India. However, keeping up with evolving content trends and ever-changing consumer demands is quite a challenging task.
Consumers are more likely to watch a variety of content whenever and wherever they want. According to a survey conducted by Ascent Group India, 68.9% of people prefer watching OTT over traditional forms of entertainment. OTT platform consumption subsequently increased during the pandemic as people preferred to stay at home. The impressive marketing strategies used by OTT platforms have helped them attract subscribers.
The diversity of India provides enough room for almost every existing OTT player as well as those looking to enter the space beyond entertainment. As a result, OTT platforms are just getting started, while traditional content creators and platforms are dying slowly.
It will be interesting to see how OTT platforms respond to changing consumer behaviour and demands and whether they'll also experience a decline. Which OTT platforms have you signed up for? Let us know in the comments section of the marketfeed app!
Post your comment
No comments to display