An Analysis of Laxmi Organic Industries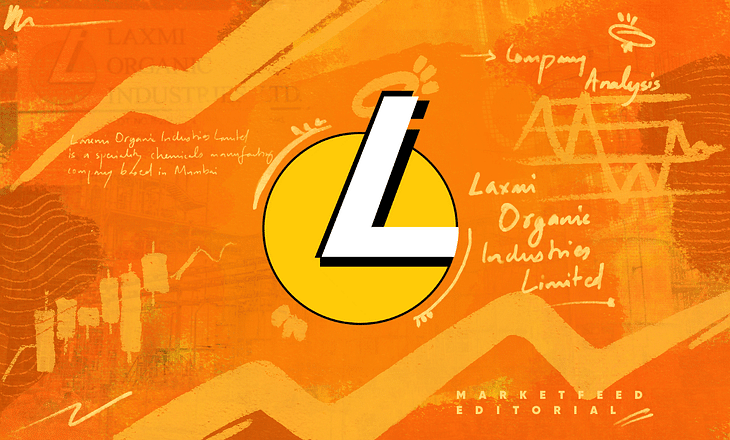 India is considered the fastest-growing market for speciality chemicals in the world. The agrochemical, pharmaceutical, and textile industries depend on a steady supply of speciality chemicals for their day-to-day production activities. There are a large number of companies in our country that manufacture such chemicals in bulk. In this article, learn more about Laxmi Organic Industries, a leading company in this highly promising industry.
Laxmi Organic Industries - Company Profile
Laxmi Organic Industries Limited is a speciality chemicals manufacturing company based in Mumbai. It primarily operates through two segments: Acetyl Intermediates (AI) and Specialty Intermediates (SI). Its acetyl intermediates include ethyl acetate, acetaldehyde, fuel-grade ethanol, and other proprietary solvents. The company's specialty intermediates include ketene, acetic anhydride, amides, and arylides. All these are chemical products that have multiple applications across the pharmaceutical and agrochemical industries. These are also essential inputs for manufacturing dyes, pigments, coatings, paints, fragrances, and adhesives.
The company has secured a nearly one-third market share in the Indian ethyl acetate market. It also has a market share of ~55% in the Indian diketene derivatives market. Dr Reddy's Laboratories, Laurus Labs, Granules India, UPL Limited, Suven Pharma, and Colourtex Industries are some of its prominent clients. Laxmi Organic exports its products to nearly 30 countries, including China, the Netherlands, Russia, the United Arab Emirates, the United Kingdom, and the United States. It currently has two state-of-the-art manufacturing facilities and two distilleries in Maharashtra.
Laxmi Organic launched its initial public offering (IPO) in March 2021 for raising Rs 600 crore. The listing price of its shares on the NSE was Rs 155.50, a gain of 19.6% over the issue price of Rs 130. The total promoter holding by the Goenka Group and US-based Yellowstone Trust currently stands at 72.92%.
Financial Performance
It seems that the negative impacts triggered by the Covid-19 pandemic have not caused any serious damage to the company's financial growth. This could mainly be due to increased demand for the products they offer. The agrochemical and pharma sectors require a regular supply of these speciality chemicals for their production activities. Laxmi Organic reported a 261.95% year-on-year (YoY) jump in consolidated net profit to Rs 36.44 crore for the quarter ended March 2021 (Q4 FY21). However, net profit has declined by 19.62% when compared to the previous quarter (Q3 FY21). Its total income in Q4 stood at Rs 521.27 crore, up 34.38% YoY and 19.17% on a quarterly basis.
Laxmi Organic's net profit for the entire financial year 2020-21 (FY21) increased by 81.21% YoY to Rs 127.03 crore. The company's total income for FY21 rose 15.2% YoY to Rs 1,773.06 crore. Thus, both revenues and profits have rebounded strongly in FY21. Over the past five years, its revenue has grown at a CAGR of 7.79%, whereas the industry average stood at 3.62%. Laxmi Organic has secured a market share of 3.3% in the highly competitive speciality chemicals industry.
The Return on Capital Employed (ROCE) stands at 20.34%. Compared to major competitors in the speciality chemicals sector, this figure is quite low. It means that for every Rs 100 worth of capital employed, Laxmi Organic earns Rs 20.34 on it. Return on Equity (ROE) is also comparatively low at 17.38%. Laxmi Organic is almost a debt-free firm. The company reported an Earnings Per Share (EPS) of Rs 5.58 in FY21, a 95% jump over FY20.
Future Plans
Over the years, allocating significant funds to its Research & Development (R&D) segment has helped Laxmi Organic expand in terms of production volume and product portfolio. Thus, the company will continue to focus on improving its product line and manufacturing capabilities through extensive R&D activities. Launching innovative products will help them grow further in a highly competitive market. Last month, they announced plans of setting up a wholly-owned subsidiary in Delaware, United States. This firm will trade the chemical products manufactured by the parent company. Laxmi Organic will invest $1 million (~Rs 7.29 crore) to set up the subsidiary.
The company aims to establish a SI manufacturing facility using a portion of the net proceeds from its IPO. Meeting capital expenditure (CAPEX) requirements and reduction of debts are also of top priority.
Conclusion
Last year, Laxmi Organic had to close down its manufacturing units due to strict lockdowns. A major concern was that all its operations are centered around Maharashtra, the state worst hit by the Covid-19 pandemic in India. However, the company was able to recover well and have posted strong financial growth in FY21. They have maintained high product quality standards over the years, which is evident from the long list of prominent clients.
According to a report from India Brand Equity Foundation (IBEF), the speciality chemicals industry in India is expected to grow at a CAGR of 11-12% over the next five years. It is expected to become a $40 billion (~Rs 3 lakh crore) market by 2025. The leading companies in this industry will continue to benefit from higher demand from multiple end-user industries. Also, there are certain government schemes that support the production activities of domestic chemical manufacturers. Laxmi Organic could greatly benefit from all of this, provided that they launch new and improved products. We will have to wait and see how the management implements its strategic plans.
Since its listing on March 21, the stock price of Laxmi Organic has increased steadily by ~44%. It hit a 52-week high of Rs 244.70 at the time of Q4 results being announced. In our opinion, there is a lot more move coming for the stock in the next 5 years.
What are your views on Laxmi Organic Industries? Do you believe it has the scope to become a market leader in the speciality chemicals industry in India? Let us know in the comments section of the marketfeed app.
Post your comment
No comments to display