An Analysis of India's Online Gaming Industry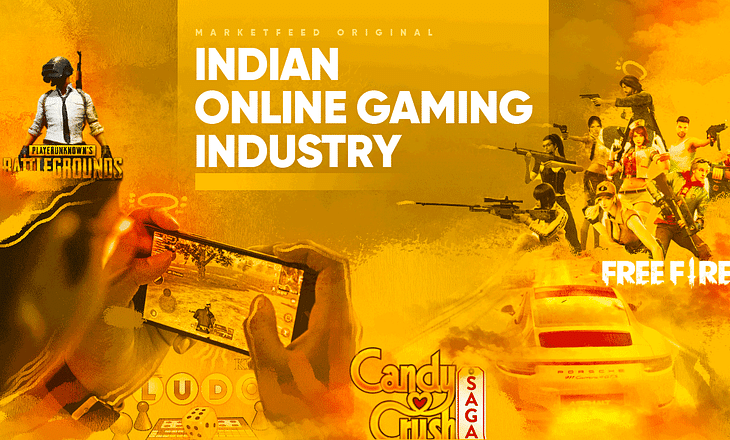 Many of us were fortunate enough to have grown up playing some of the greatest games on our PCs or gaming consoles. Right from Super Mario and Tetris all the way to GTA and FIFA, gaming has been a major part of most of our lives. With the arrival of affordable smartphones and cheap data packs, people from all age groups had turned to PUBG Mobile, Angry Birds, and Candy Crush. The online gaming industry is witnessing a massive boom in India, and many companies are lining up to secure a share of it. 
In this article, we dive into India's online gaming industry and learn more about the listed companies that operate in it.
India's Online Gaming Industry: An Overview
The Indian gaming industry is quite different from what we find abroad. PC gaming has been fairly successful in India, but there is low penetration of high-end personal computers as they are expensive. Platforms such as Playstation and Xbox are also not accessible to the average Indian. However, our country has made a quick and direct transition to mobile gaming over the past decade. The rise of cheap smartphones and low telecom tariff rates has accelerated the growth of mobile/online gaming. PUBG Mobile is a prime example of how these factors were monetized.
Within the first nine months of 2020, India secured the number one spot in mobile game downloads worldwide, registering nearly 730 crore total installs. This can be attributed to the lockdowns imposed due to the Covid-19 pandemic. A major portion of our population had turned to popular mobile games to pass the time. At its peak, PUBG Mobile had an estimated 3.4 crore Indians playing daily! Mobile users form a staggering 85% of the gaming industry, followed by PC users at 11%, and tablet users at 4%.
According to a report from consulting firm KPMG, the Indian online gaming market was valued at Rs 13,600 crore in the previous financial year (FY21). It is projected to grow at a CAGR of 21% to reach Rs 29,000 crore by FY25! The online casual gaming sub-segment is valued at Rs 6,000 crore, accounting for 44% of the total online gaming revenues. The number of gamers in India is expected to grow from 43.4 crores (currently) to 65.7 crores by FY25.
Moreover, there are over 400 gaming startups at present that are accelerating the growth of the sector. Let us now look at some of the listed companies that operate in the Indian gaming industry.
Nazara Technologies
Nazara Technologies Ltd operates as a diversified gaming and sports media platform in India. The Mumbai-based company was incorporated in 1999. It primarily operates through the following segments:
Freemium– games can be downloaded for free, but users will have to watch ads or pay for full access.
Gamified Early Learning– the 'Kiddopia' brand approaches early-level education by using video game design and game elements in learning environments. The segment caters to kids between ages 2-6 years of age.
eSports– competitive online multiplayer gaming. Nazara Tech handles gamers, events, broadcasting, prizes, and other aspects of eSports.
Subscription-based model– One-time payment of a monthly or annual fee to gain unlimited access for the duration.
Nazara Tech also receives cash flows from advertisements and several premium games. The company operates Nodwin Gaming and Sportskeeda in the eSports and eSports media segments, respectively. They also operate HalaPlay and Qunami under the skill-based, fantasy, and trivia games category. Nazara Tech had recently announced the acquisition of OpenPlay, a skill-based gaming platform. It has a presence in the Middle East, Africa, and North America as well. The company is backed by investors such as Rakesh Jhunjhunwala, IIFL, Abu Dhabi Investment Authority (ADIA), and Westbridge Capital.
Zensar Technologies
Zensar Technologies Ltd is a digital solutions and technology services company based in Pune. Established in 1991, the company provides information technology (IT) services and solutions across the globe. They provide services such as mobile app development, web development, e-commerce development, game development, Artificial Intelligence (AI) and Automation, Cloud Infrastructure, Data Management, Data Science, and other technologies.
OnMobile Global
OnMobile Global Limited provides telecom value-added services in India and across the globe. The company was founded in 2000 and is headquartered in Bengaluru. It offers apps and services under the ONMO brand name. They also offer carrier services, such as ringback tones, videos, contests, and games.
Moreover, IT majors such as Tata Consultancy Services and Infosys have experienced personnel that develop 3D games and Augmented/Virtual Reality games. There is heavy competition amongst game developers worldwide.
Concerns Regarding Gaming in India
As mentioned before, mobile gaming makes up a large chunk of the Indian gaming market as a result of access to affordable smartphones, high-speed 4G internet penetration, and the world's lowest data tariffs. Improved disposable income amongst Indians has also led to greater willingness to make in-app purchases as well. The surge in gaming comes from an evolving demand for virtual entertainment with friends, family, and peer groups. There is also a sharp rise in the number of influencers that encourage Indians to play more games. These factors have reportedly made India the fourth-largest market for online games globally.
Time and again, experts and government authorities discuss the negative effects of gaming at length. Heavy-duty online gaming is frowned upon in India, as certain studies have shown that it could lead to several physical and mental problems, including addiction. While online games have become a vital element for time pass and entertainment, there is potential for overuse or misuse among the young population. There are risks related to exposure of children to inappropriate content, cyberbullying, gambling, and sexual exploitation. The gaming industry is also prone to constant cyber-attacks and data breaches. It is important to find an essential balance between the potential benefits and harmful effects of online gaming.
China, the largest market for online gaming, recently imposed a rather harsh rule that forbids under-18s from playing online games for more than three hours a week. Such a crackdown could severely impact the country's $46 billion gaming industry and companies such as Tencent and Bilibili Inc.
What are your views on India's online gaming ecosystem and industry? Let us know in the comments section of the marketfeed app.
Post your comment
No comments to display