An Analysis of India's Green Hydrogen Industry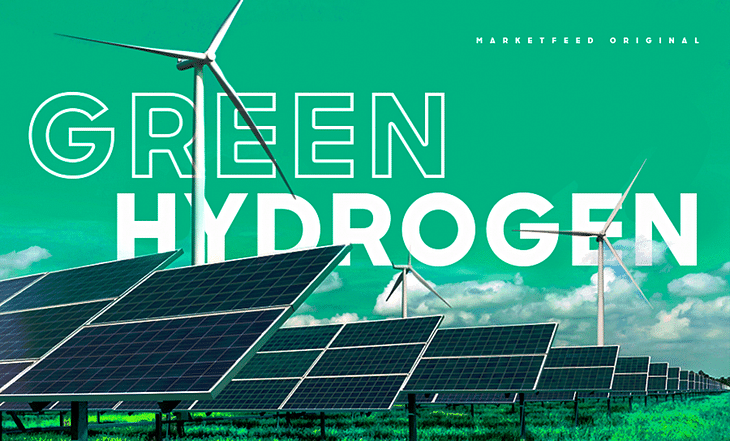 India has announced plans to de-carbonize within the next 30 years. The government has taken strategic decisions to reduce the reliance on fossil fuels and cut down costly imports. Our country's target of achieving 175 gigawatts (GW) of renewable energy capacity by 2022 has received a significant boost through new policies. As part of these efforts, India is now focusing on the development and production of green hydrogen as an energy source.
In this article, we shall analyse an industry that is gradually evolving and essential for India's growing economy— the green hydrogen energy industry! We shall also find out who the top players in this field are.
What Exactly is Green Hydrogen?
Hydrogen is the most common element in the universe. However, it only exists in the form of combinations with other elements. Hydrogen is commonly extracted from compounds such as water, and the process can be quite energy-intensive. Based on the sources and processes by which hydrogen is derived, it can be categorized into three:
Grey hydrogen: Produced from fossil fuels (primarily natural gas).
Blue hydrogen: Generated from fossil fuels with carbon capture and storage options.
And finally, green hydrogen: Generated from renewable power sources such as solar, wind, and geothermal energy.
Green hydrogen is produced by splitting water into hydrogen and oxygen using renewable electricity. This chemical process is known as electrolysis. The main advantage of green hydrogen is that it is a clean-burning molecule. It can help reduce carbon emissions in the iron and steel, chemicals, and transportation sectors. A truly revolutionary concept, indeed!
The Green Hydrogen Industry in India
Since green hydrogen is one of the cleanest forms of energy, it is now considered the best solution to achieve net-zero emissions. Many countries are now investing billions of dollars into the development of green hydrogen infrastructure. Meanwhile, India has also taken various steps to support green initiatives.
In August 2021, Prime Minister Narendra Modi launched the National Hydrogen Energy Mission (NHEM) and announced his decision to transform India into a global hub for green hydrogen production and export. Between 2021 and 2024, the government will invest Rs 800 crore in research & development projects that aim to cut down the cost of green hydrogen production.
India's current energy import bill is over Rs 12 lakh crore a year. The dependence on coal and oil is likely to surge by 2-3 times in the near future. Thus, NHEM will help to stop our reliance on expensive oil imports. Green hydrogen will become a necessity to meet energy consumption requirements in the long term.
In February 2022, the Indian government introduced the Green Hydrogen Policy. It targets the production of 5 million metric tonnes per annum (MTPA) of green hydrogen by 2030. Under this policy, a renewable energy plant set up to supply power for green hydrogen production before July 2025 will get 25 years of free power transmission! This policy will bring a sense of competitiveness amongst players in the green hydrogen sector.
Many entities are working on the development of hydrogen fuel cell technology to power automobiles. We will soon be able to see many hydrogen-powered vehicles plying on Indian roads!
Now, let's look at the top 5 companies leading the green hydrogen revolution in India.
Reliance Industries Ltd
Reliance Industries Ltd (RIL) has entered the green energy sector with highly ambitious plans.
Chairman Mukesh Ambani had revealed a roadmap to invest $10 billion (or Rs 75,400 crore) in solar, green hydrogen, batteries, and fuel cells over the next three years.
RIL has also started developing the Dhirubhai Ambani Green Energy Giga Complex in Jamnagar, Gujarat. This Rs 60,000 crore project will be an integrated facility that manufactures components such as solar cells & modules, batteries, fuel cells, and an electrolyzer plant to produce green hydrogen.
RIL has partnered with Danish company Stiesdal A/S through its subsidiary Reliance New Energy Solar Ltd to develop and manufacture hydrogen electrolyzers.
Reliance has vowed to produce green hydrogen at $1 per kilogram by 2030.
GAIL (India) Ltd
GAIL is currently working on building the largest green hydrogen plant in our country as it looks to supplement its natural gas business with carbon-free fuel.
It had recently floated a global tender to procure an electrolyzer that can produce 4.5 tonnes of hydrogen per day.
The company has also started mixing hydrogen in natural gas systems of key cities as part of a pilot project.
NTPC
State-owned NTPC plans to produce green hydrogen on a commercial scale.
NTPC will establish a 4,750 MW renewable energy park in Rann of Kutch.
The company is running a pilot project at one of its units in Uttar Pradesh, where the cost of hydrogen is currently around $2.8-3/kg.
NTPC also plans to set up its first green hydrogen fuelling station in Leh, Ladakh.
The PSU aims to achieve 60 gigawatts (GW) of renewable capacity by 2032.
Indian Oil Corporation (IOC)
IOC plans to build a green hydrogen plant at its Mathura refinery in Uttar Pradesh. The unit is likely to have a capacity of nearly 1.6 lakh barrels per day.
The company has set a target of converting at least 10% of its hydrogen consumption at refineries to green hydrogen in the upcoming years.
IOC also aims to establish a standalone green hydrogen manufacturing unit in Kochi, Kerala. This unit will draw energy from the solar power facility of Cochin International Airport Ltd.
Larsen & Toubro
Larsen & Toubro signed a major pact with Norway-based HydrogenPro AS to establish an alkaline water electrolysis unit in India.
They also plan to set up green hydrogen plants at their manufacturing units.
L&T recently announced the formation of a joint venture with Indian Oil Corporation and Nasdaq-listed ReNew Power to develop a green hydrogen business in India.
L&T has set a target to become a net-zero company by 2040. The company aims to invest Rs 1,000-5,000 crore on green initiatives in the coming years.
Conclusion
India's green hydrogen market is at an infant stage. Producing hydrogen fuel is an expensive task, with the biggest cost being the electrolyser. It is also quite expensive to move/transport hydrogen. Manufacturing at a greater scale could reduce such costs. However, production capacities are low due to limited demand.
Despite these challenges, our government has taken the initial steps toward encouraging research & development of green hydrogen. In 2017, the Indian hydrogen market was valued at $50 million. This market is expected to grow to $81 million by 2025! No wonder a lot of companies are entering this highly-promising sector! They have already started tapping into the potential of hydrogen as an energy source. Many are examining methods to bring down the cost of production and find alternate use-cases. As citizens, we can build awareness of the technology behind green hydrogen and its benefit to the environment.
What are your views on the evolving green hydrogen industry in India? Let us know in the comments section of the marketfeed app!
Post your comment
No comments to display