An Analysis of Affle (India) Limited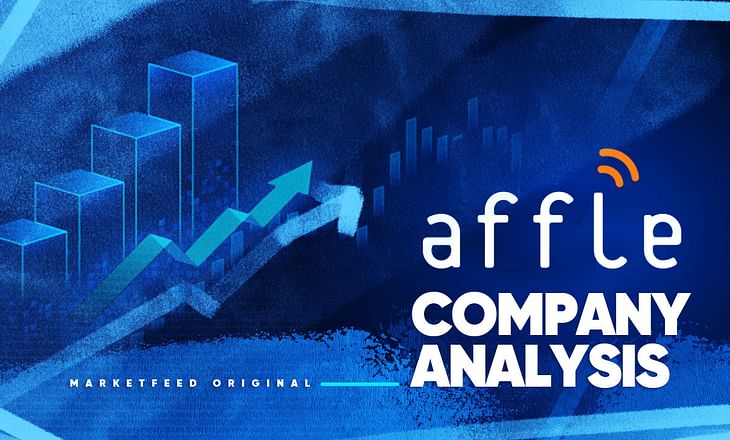 When you use any form of online media platform, you are bound to receive customised advertisements. Have you ever wondered about the companies that work behind the scenes to send you such ads? Affle (India) is one such listed firm that runs ad campaigns for some of the largest e-commerce platforms in our country. In this article, learn more about Affle (India) and its recent performance.
Affle (India) Ltd - Company Profile
Affle (India) Limited is a global technology company with a consumer intelligence platform that delivers user engagement and transactions through relevant mobile advertising. In simple terms, the company improves returns on marketing investment of businesses through mobile ads and by reducing digital fraud. Its consumer platform is used by online and offline companies to attract new customers via mobile advertising. Meanwhile, Affle's enterprise platform helps offline firms to go online through platform-based app development and online-to-offline (O2O) commerce.
The company commenced its operations in 2006. Affle launched SMS2.0 in 2007, which redefined mobile media by blending browser-type functionalities over short message service (SMS). In the subsequent years, the company launched SMS Live, a search & social network discovery platform over SMS, and Pinch, a cross-platform messaging app. They hold numerous patents for mobile messaging, search, and ad-fraud detection.
Affle Holdings is the Singapore-based promoter of Affle India. The company's investors include prominent entities such as Microsoft, D2C Inc. (a subsidiary of Japan-based mobile phone operator NTT DoCoMo), and Bennett Coleman & Company Ltd (Times Group).
Affle's Business Model
Affle (India) uses user-intent indicators based on transactional data, marketing attribution, and behavioral signals. The company predicts the interests of users based on the information it collects. It keeps updating the system based on data to improve consumer engagement. For example, Affle targets select users to complete transactions for e-commerce companies through relevant mobile ads. They also run marketing campaigns on a data intelligence basis to drive high volumes at an efficient price.
The company obtains revenue on a cost per converted user (CPCU) basis. The conversion is based on the transaction (purchase of a product or service) and consumer acquisition model. Moreover, the firm receives revenue through engagement and awareness-type advertising.
Affle primarily caters to the telecom and internet service providers (ISP), healthcare, retail, and e-commerce sectors. It also offers services to the enterprise resource planning (ERP) and workplace, real estate, travel, and transportation industries. Several government agencies also use their platforms to spread awareness. Interestingly, Affle (India) has run successful ad campaigns for companies such as Amazon, Flipkart, Goibibo, BookMyShow, ALTBalaji, and many more.
Affle India's Platforms
Mobile Audience as a Service (MAAS) platform - an end-to-end mobile advertising platform
RevX - a self-serve programmatic platform
Appnext - an app discovery and recommendation platform
Jampp - a leading programmatic app marketing platform
Vizury Engage360 - an omnichannel marketing platform
Mediasmart - a programmatic and proximity marketing platform
mFaaS - an ad fraud detection platform
Shoffr - an online to offline marketing platform
mKr8 - an ad authoring platform
mDMP - a data management platform
mCDP - a customer data platform for audience intelligence and engagement
Affle reusable components for application development.
Financial Performance
Affle (India) has posted consistent growth in revenues and profits over the past few years. The overall negative impact triggered by the Covid-19 pandemic has not caused any serious damage to the company's financial growth. This could mainly be due to increased demand for the services they offer.
The company posted a 105.77% year-on-year (YoY) jump in consolidated net profit to Rs 134.90 crore for the financial year 2020-21 (FY21). Its total income increased by 64.27% YoY to Rs 558.31 crore during the same period.
Over the past five years, Affle's revenue has grown at a staggering CAGR of 50.34%, whereas the industry average stood at just 8.08%. The Return on Equity (ROE) stands at 42.4%, which is considered outstanding. [RoE signifies how well the company uses shareholders' capital to generate profits.]
The company has been able to secure a market share of 15.65% in the Indian advertising industry.
Affle reported a 90.3% YoY increase in consolidated net profit to Rs 35.72 crore for the quarter ended June 2021 (Q1 FY22). Total income rose 79.07% YoY to Rs 165.16 crore during the first quarter. However, net profit and total income had declined by 38.94% and 6.99%, respectively, compared to the previous quarter.
Do keep a close watch on their upcoming Q2 results and major announcements!
Conclusion
As a result of its vital offerings and strong financial performance, Affle India's shares have surged ~115% in just one year. The company was in the news lately due to its stock split (or sub-division of equity shares). Affle's shares have been split in the ratio 1:5 to facilitate a larger shareholding base and improve liquidity. That is, one equity share of the face value of Rs 10 each has split into five equity shares of the face value of Rs 2 each. 
Affle (India) "targets'' the present tech-savvy generation that prefers mobile or social media marketing. It has developed a technology that is almost fool-proof from any malware or spam. However, many consider targeted ads as a serious invasion of privacy.
The company is currently working towards Affle 2.0 Strategy. Their primary focus is on enabling hyper-personalized consumer recommendations. On the other hand, they also aim to provide deeper insights (analytics) across consumer segments, leading to a greater return of investment (ROI) impact for clients. The surge in smartphone penetration and the number of online shoppers are likely to boost Affle's revenue growth. Let us look forward to seeing how the company executes its strategic plans.
What are your views on Affle India? Let us know in the comments section of the marketfeed app.
Post your comment
No comments to display