Ami Organics IPO: All You Need To Know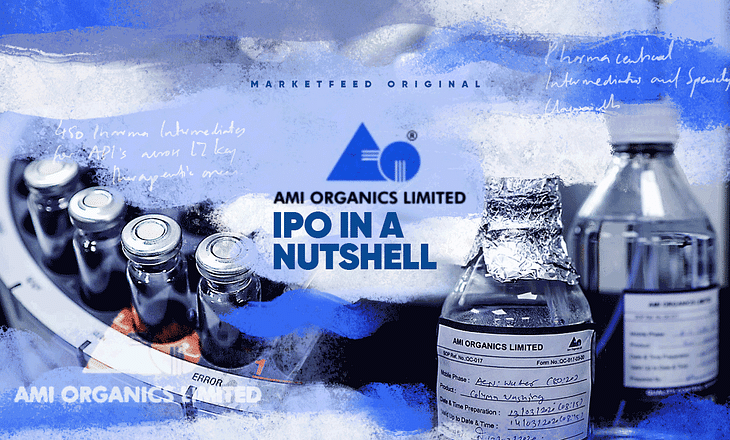 The IPO frenzy continues! This time it is one of the many IPO stocks to debut this year. We are talking about Ami Organics. Ami Organics has announced its IPO starting September 1 (Wednesday) and closes 2 days later on September 3 (Friday). In this piece, we discuss the business model of Ami Organics, its finances, and its sustainability in the long term.
Business Model
Ami Organics is a Research and Development driven pharmaceutical company that manufactures mainly two things - Pharmaceutical Intermediates and Speciality Chemicals.
Pharma Intermediates are used to manufacture Active Pharmaceutical Ingredients (APIs), which are in turn used to manufacture medicines or drugs. Specialty Chemicals on the other hand can be used for other purposes like manufacturing agrochemicals or fine chemicals.
The company has developed and commercialized over 450 Pharma Intermediates for APIs across 17 key therapeutic areas since inception and NCE, with a strong focus on R&D across the select high-growth high-margin areas. These include anti-retroviral, anti-inflammatory, anti-psychotic, anti-cancer, anti-Parkinson, anti-depressant, and anti-coagulant medicines. Therapeutic areas like anti depressants, anti-retrovirals, and anti-coagulants contributed to nearly 57% of total revenue
In fiscal 2021, the Pharmaceutical Intermediates segment contributed close to 88.4% to total revenue of Rs 301.1 crore. The remaining came from Speciality Chemicals and other sources.
The company's revenue is highly dependent on exports. Its revenues from exports have grown at a CAGR of 21.84% between Fiscals 2019 and 2021. In fiscal 2021, close to ~51% of the total revenue of the company came from exports. The highest going to Italy.
The company is also amply dependent on imports for raw materials. In 2021, 26.7% of total raw material purchases were from imports on which the company spent Rs 51.02 crores. Close to 9.39% of the total import purchases came from China.
Its top five customers account for 44.6% of total revenue, while the top 10 forms 60.9% of it.
The company had one plant initially in Sachin GIDC, Surat, Gujarat. Recently it has acquired two plants of Gujarat Organics Limited, Ankleshwar and Jhagadia in Gujarat, for Rs 93 crore. This took the total manufacturing capacity up to 6,060 million tonnes per annum.
Finances
The total revenue for fiscal 2021 was Rs 340 crore. However, this does not include the revenue generated from the acquisition of two new plants at Ankleshwar and Jhagadia. The Net Profit of the company grew at a CAGR of 32.44% over a period of three years to Rs 53.9 crore.
IPO in a Nutshell
Conclusion
Ami Organics as a company has a strong and diversified product portfolio supported by strong R&D. The company also has patented many formulations. A patent is an exclusive right granted for an invention, it also gives the owner the legal right to exclude others from making, using, or selling an invention.
The company has a strong presence in developed pharmaceutical markets like Europe, the US, and China. Moreover, the company operates in a market that has high entry barriers. Manufacturing specialty chemicals and pharmaceuticals require lots of licenses and approvals from domestic and international organizations.
Supported by healthy financial performance, Ami Organics has experienced sustained growth in terms of Revenue, Profit After Tax and Total Assets acquired. It has maintained a robust financial position with a strong balance sheet and increased profitability. Taking a closer look at its 'Financial Performance', we see that there was a major spurt in growth between fiscals 2020 and 2021. The strong balance sheet and positive operating cash flows coupled with low levels of debt can enable it to expand in the developing pharmaceutical sector in India.
Post your comment
No comments to display