Ambani Says Indian Economy to Hit $40 Trillion by 2047 - Top Indian Market Updates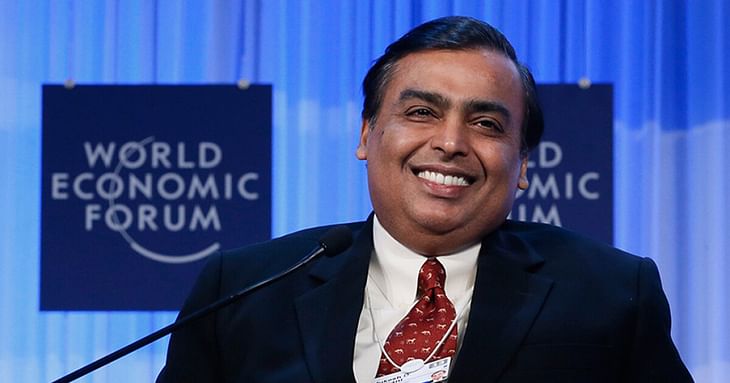 Here are some of the major updates that could move the markets tomorrow:
Mukesh Ambani says Indian economy to grow 13-fold to $40 trillion by 2047
Reliance Industries Ltd's Mukesh Ambani said India is likely to become a $40 trillion economy by 2047— a 13-fold jump from its current size. "Three game-changing revolutions will govern India's growth in the decades ahead: the clean energy revolution, the bio-energy revolution and the digital revolution," he added. Ambani said India will witness an unprecedented explosion in economic growth and opportunities.
Read more here.
Bharti Airtel's Nxtra starts construction of its largest data centre in Kolkata
Nxtra Data, a subsidiary of Bharti Airtel Ltd, has started the construction of its new hyper-scale data centre in Kolkata. The company will invest ₹600 crore in the development of the facility. The data centre will serve the markets of east & north-east regions in India and the SAARC countries and fulfil the growing needs of enterprises and global cloud players.
Read more here.
Jio adds 7.24 lakh subscribers in Sept, Bharti Airtel gains 4.12 lakh: TRAI
Reliance Jio Infocomm added 7.24 lakh wireless subscribers in September 2022, taking its total user count to 42.68 crore. Bharti Airtel gained 4.12 lakh subscribers in Sept, and its total subscriber count increased to 22.50 crore. Meanwhile, Vodafone Idea (Vi) lost 40.11 lakh subscribers, and its total user count declined to 12.32 crore. India's total mobile subscriber base fell by 36 lakh in September.
Read more here.
Steel Strip Wheels to establish EV joint venture with Redler Tech
Steel Strip Wheels Ltd (SSWL) has signed an agreement to form a joint venture (JV) with Israel-based Redler Technologies for the development, manufacturing, and sales of motion controllers for electric vehicles in India. The association will synergise SSWL's manufacturing capability, large consumer access, and strong Indian presence with Redler Tech's access to advanced technology.
Read more here.
Bajaj Finance raises deposit rates for third time in 3 months
Non-banking finance company (NBFC) Bajaj Finance has raised deposit rates for the third time in three months to boost liabilities. It has raised fixed deposit rates by up to 25 basis points for tenures between 12-23 months. Several lenders like State Bank of India, HDFC, and Ujjivan Small Finance Bank raised deposit rates multiple times since April when the Reserve Bank of India started rising interest rates to curb inflation.
Read more here.
Glenmark Pharma signs settlement pact with Pfizer for cancer drug
Glenmark Pharmaceuticals Ltd has entered into a settlement agreement with Pfizer Inc regarding Axitinib Tablets. The product is the generic version of Pfizer's Inlyta tablets, used to treat kidney cancer. According to IQVIA data, Inlyta tablets achieved annual sales of around $644.5 million for the 12 months ended September 2022.
Read more here.
India's domestic air traffic rises 27% in October: DGCA
Data released by the Directorate General of Civil Aviation (DGCA) showed that Indian airlines carried 1.14 crore passengers in October 2022, up 27% YoY. Domestic air traffic rose 10% compared to the previous month. IndiGo's market share fell from 58% in Sept to 56.7% in October. SpiceJet and Akasa Air had a market share of 7.3% and 1.4%, respectively, in Oct.
Read more here.
Dr. Reddy's Labs to face antitrust litigation in US
An antitrust litigation was filed against several generic pharmaceutical companies, including Dr. Reddy's Laboratories Ltd, Celgene, and Bristol Myers Squibb in the US. A complaint was filed on Nov 18, 2022, in the District of New Jersey, and the pharma companies have been named defendants. The complaint alleges that the defendants improperly restrained competition and maintained a shared monopoly in the sale of the Revlimid brand through their respective settlements of patent litigation.
Read more here.
Vedanta declares third interim dividend of ₹17.5 per share
Vedanta Ltd's board approved the third interim dividend of ₹17.5 per share for the financial year 2022-23. The dividend will amount to ₹6,505 crore. The company has fixed November 30, 2022, as the record date for the dividend. Vedanta paid its first interim dividend of ₹31.5 per equity share in May 2022 and the second interim dividend of ₹19.5 per share to shareholders in July.
Read more here.
Post your comment
No comments to display