Akasa Air Gets DGCA License to Fly - Top Indian Market Updates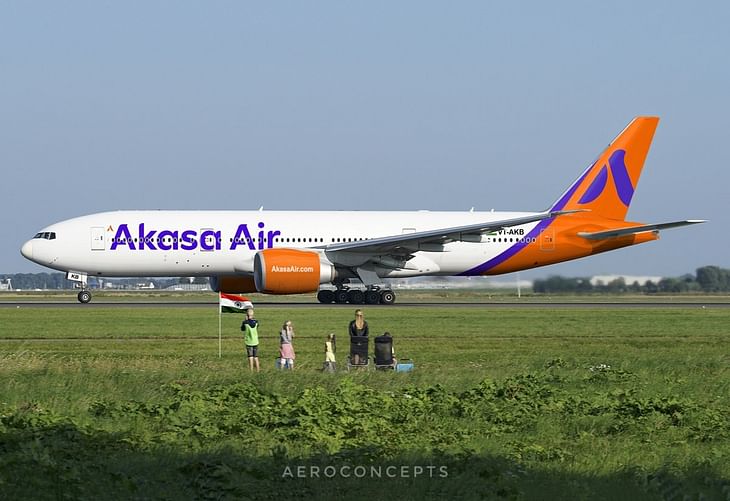 Here are some of the major updates that could move the markets tomorrow:
Akasa Air gets airline license from DGCA
Ace investor Rakesh Jhunjhunwala's Akasa Air has received the Air Operator Certificate (AOC) from the Directorate General of Civil Aviation (DGCA). The grant of the AOC marks the satisfactory completion of all regulatory and compliance requirements for the airline's operational readiness. The airline will start commercial operations later this month. Akasa Air will be the eighth airline to operate domestically.
Read more here.
BHEL commissions 100-MW floating solar PV plant in Telangana
Bharat Heavy Electricals Ltd (BHEL) has commissioned a 100 megawatts (MW) floating solar photovoltaic (PV) plant at NTPC Ramagundam, Telangana. The plant is installed across a natural raw water reservoir, saving valuable land resources and also conserving water by reducing evaporation. The plant will produce clean power with innovatively engineered layouts and arrangements for the solar PV modules, electricals, and floaters.
Read more here.
JSW Steel's consolidated output rises 16% to 5.88 MT in Q1
JSW Steel Ltd's combined crude steel production for Q1 FY23 stood at 5.88 million tonnes (MT), registering a growth of 16% YoY. On a quarter-on-quarter (QoQ) basis, crude steel production was 2% down from 5.98 MT in January-March 2022 (Q4 FY22). The decline is due to the preponement of certain scheduled shutdowns during the financial year 2022-23.
Read more here.
Glenmark Pharma launches Sitagliptin in India
Glenmark Pharmaceuticals Ltd has launched Sitagliptin and its fixed-dose combinations (FDCs) for adults with Type-2 diabetes in India. The pharma company has introduced 8 different combinations of Sitagliptin-based drugs under the brand name SITAZIT and its variants. It will help diabetes patients to manage their glycemic levels effectively.
Read more here.
Ajmera Realty Q1 sales bookings jump over 3-fold to Rs 400 crore
Ajmera Realty & Infra India Ltd reported a 261% YoY jump in sales to Rs 400 crore for the quarter ended June (Q1 FY23). The company sold 1.57 lakh sq. ft. carpet area, registering a growth of 155% YoY. Collections increased by 126% YoY to Rs 210 crore in Q1. Despite the high input cost scenario and projected high-interest environment, Ajmera Realty is observing a positive momentum from home buyers.
Read more here.
Kalyan Jewellers' revenue jumps 105% YoY in Q1
Kalyan Jewellers India Ltd's (KJIL) consolidated revenue grew 105% YoY during the quarter ended June (Q1 FY23). The company witnessed more than a 115% YoY growth in revenue from its India operations and 65% YoY from Middle Eastern operations. KJIL saw an improvement in gross margin in Q1, driven by an increase in the studded jewellery mix and share of business from non-south markets.
Read more here.
Cyient partners with IIT Hyderabad to nurture India's entrepreneurial talent
The Cyient Foundation and the Shibodhi Foundation have partnered with IIT Hyderabad to develop the BVR Mohan Reddy School of Innovation and Entrepreneurship (BVR SCIENT) on its campus. BVR SCIENT aims to nurture and develop world-class innovation and entrepreneurial talent from India. Cyient Foundation is the Corporate Social Responsibility (CSR) arm of Cyient Ltd.
Read more here.
RBI eases overseas borrowing to boost forex inflows
The Reserve Bank of India (RBI) has announced several temporary measures aimed at boosting foreign exchange (forex) inflows. The steps include doubling borrowing limits for companies from overseas to $1.5 billion during a financial year. Interest rate ceilings for foreign currency deposits by non-resident Indians' (NRI) will be removed. The move comes at a time when persistent capital outflows and a widening trade deficit have led to a sharp depreciation in the value of the Indian Rupee to new record lows against the U.S. Dollar.
Read more here.
G M Breweries Q1 Results: Net profit rises 39% YoY to Rs 16.16 crore
G M Breweries Ltd reported a 38.8% year-on-year (YoY) increase in net profit to Rs 16.16 crore for the quarter ended June (Q1 FY23). Its revenue from operations jumped 103.8% YoY to Rs 142.02 crore during the same period. Total expenses rose 106% YoY to Rs 531.18 crore in Q1. G M Breweries manufactures and markets alcoholic beverages such as country liquor (CL) and Indian-made foreign liquor (IMFL).
Read more here.
Power Grid, Tata Projects executives arrested in bribery case
The Central Bureau of Investigation (CBI) has arrested Executive Director of Power Grid Corporation of India B S Jha and five officials of Tata Projects in connection with alleged bribery to favor the private company. The agency had conducted searches in Ghaziabad, Noida, and Gurugram, during which Rs 93 lakh cash was recovered from the offices of Jha.
Post your comment
No comments to display