AGEL Commissions World's Largest Hybrid Power Plant - Top Indian Market Updates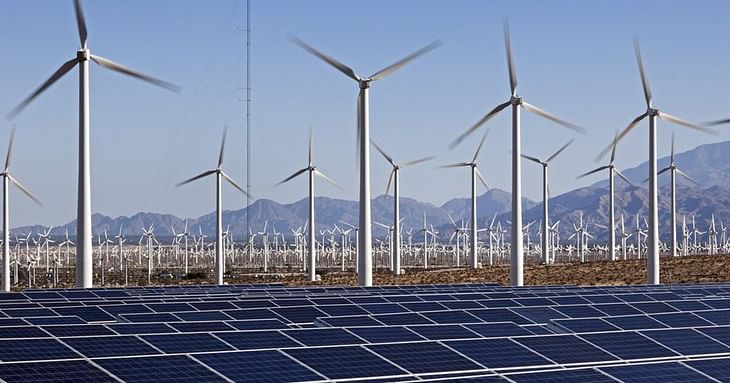 Here are some of the major updates that could move the markets tomorrow:
Adani Green commissions 600 MW wind-solar plant in Jaisalmer
Adani Green Energy Ltd (AGEL) has commissioned the world's largest wind-solar power plant of 600 megawatts (MW) capacity in Jaisalmer, Rajasthan. The plant has a power purchase agreement with Solar Energy Corporation of India (SECI) at ₹2.69 per kilowatt-hour (kwh) for 25 years. The project consists of 600 MW solar and 150 MW wind plants.
Read more here.
Hero MotoCorp partners with Zero Motorcycles to develop electric motorcycles
Hero MotoCorp is finalizing a collaboration agreement with Zero Motorcycles, a California-based manufacturer of premium electric motorcycles and powertrains. The partnership will focus on co-developing electric motorcycles. Hero MotoCorp's board has approved an equity investment of up to $60 million (~₹490 crore) in Zero Motorcycles.
Read more here.
IOCL forms subsidiary for treasury operations
Indian Oil Corporation Ltd (IOCL) has floated a wholly-owned subsidiary to carry out finance activities such as fund pooling and treasury operations. The unit will open an office in the International Financial Services Centre (IFSC) at Gujarat International Finance Tec-City (Gift City). The subsidiary will also conduct global treasury operations and utilise IFSC to raise capital and debt from overseas markets.
Read more here.
Reliance Retail launches fashion stores under Azorte brand
Reliance Retail Ventures Ltd (RRVL) announced the launch of fashion and lifestyle stores under the Azorte brand that will sell mid-to-premium fashion merchandise. The products available in the stores will include private labels created specifically for the format. The stores may also stock third-party brands in categories such as perfumes and accessories. RRVL opened its first Azorte store at 1 MG-Lido Mall, MG Road, Bengaluru.
Read more here.
UNO Minda to form JV with Tachi-S Company to manufacture vehicle seat recliners
UNO Minda Ltd (UML) will set up a joint venture (JV) with Japanese firm Tachi-S Company to manufacture and market seat recliners for four-wheeler passenger vehicles in India. UML will hold a 51% stake in the JV, while Tachi-S Company Ltd will have the remaining stake. The JV will initially offer recliners and expand to other seating mechanisms, frames, and complete seating assembly.
Read more here.
USFDA issues warning letter to Lupin's Tarapur unit
The US Food and Drug Administration (USFDA) has issued a warning letter to Lupin's facility at Tarapur, Maharashtra. The federal agency inspected the site from March 22, 2022, to April 4, 2022. Lupin said it does not believe that the warning letter will have an impact or disruption of supplies or the existing revenues from operations of this facility.
Read more here.
Vedanta increases sourcing of green energy to 1GW
Vedanta Ltd has increased the sourcing of green energy to 1 gigawatt (GW) for various operations. It is also seeking bids for the supply of another 500 MW of renewable energy. The company aims to use up to 2.5 GW of renewable power by 2030. Vedanta has invited Expression of Interest (EoIs) for the supply of hybrid renewable power for its manufacturing units in Rajasthan, Chhattisgarh, and Odisha.
Read more here.
Adani Enterprises secures ₹10,238 crore fund for Ganga Expressway Project
Adani Enterprises Ltd's three wholly-owned subsidiaries have achieved financial closure for the access-controlled six-lane greenfield Ganga Expressway Project in Uttar Pradesh. The company has secured finances of ₹10,238 crore from lenders. The concession period of the project will be 30 years with a traffic link extension provision of six years, including three years of construction period.
Read more here.
CCI approves Adani Power's acquisition of Digilent Power, DB Power
The Competition Commission of India (CCI) has approved Adani Power's acquisition of 100% share capital of Diliigent Power Pvt. Ltd. and DB Power Ltd. Diliigent Power provides project management & consultancy services and is the holding company of DB Power. DB Power operates a coal-based thermal power plant with an installed capacity of 1200 MW per hour in Chhattisgarh.
Read more here.
Centre extends deadline for implementation of 6 airbags in a car by 1 year
Union Road Transport & Highways Minister Nitin Gadkari said the deadline for mandatory implementation of six airbags in a passenger car has been pushed by a year (with effect from Oct 1, 2023). The deadline has been extended due to global supply chain constraints being faced by the auto industry and its impact on the macroeconomic scenario.
Read more here.
Post your comment
No comments to display