Aether Industries Ltd IPO: All You Need to Know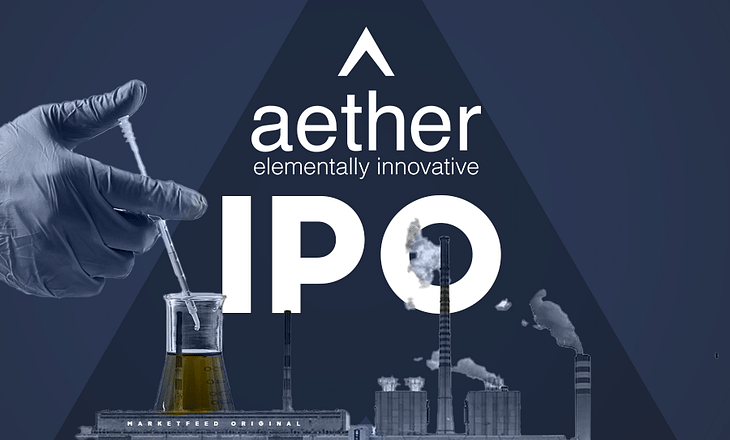 The IPO 'may-hem' continues in the Indian stock markets! Gujarat-based speciality chemical manufacturer Aether Industries Ltd has launched its three-day initial public offering (IPO) today— May 24. In this article, we analyse the company and its IPO.
Company Profile - Aether Industries Ltd
Established in 2013, Aether Industries Ltd (AIL) is one of the fastest-growing speciality chemical manufacturing companies in India. It produces advanced intermediates and chemicals involving complex, differentiated chemistry and technology core competencies. They started building an in-house research & development (R&D) team in 2013 and commenced commercial operations in FY17.
The company operates through three business models:
Large-scale manufacturing of its own intermediates and speciality chemicals.
Contract research and manufacturing services.
Exclusive manufacturing
AIL's portfolio consisted of over 25 chemical products as of March 31, 2022. Their key customers are based in North America, Europe, and India. Prominent clients include Adama Ltd (Israel), BYK Group (Germany), UPL Limited, Divi's Labs, and Dr. Reddy's Labs. The company derives 62.6% of its revenue from the pharma segment and 22.9% from the agrochemical segment. Exports make up ~49% of its total revenue, which also acts as a natural hedge against volatility in raw materials sourced from overseas. It owns and operates two manufacturing facilities in Surat, Gujarat.
Aether Industries grew at an annualized rate (CAGR) of 49.5% between 2019 and 2021. The company's vision is to create a niche in the global chemical industry with a creative approach to chemistry and technology systems.
About the IPO
Aether Industries Ltd's public issue opens on May 24 and closes on May 26. The company has fixed Rs 610-642 per share as the price band for the IPO.
The fresh issue of shares (of the face value of Rs 10 each) aggregates to Rs 627 crore. The IPO also includes an offer for sale (OFS) by promoters and early investors, aggregating to Rs 181.04 crore. Individual investors can bid for a minimum of 23 equity shares (1 lot) and in multiples of 23 shares thereafter. You will need a minimum of Rs 14,766 (at the cut-off price) to apply for this IPO. The maximum number of shares that a retail investor can apply is 299 equity shares (13 lots).
The company will utilise the net proceeds from the IPO for the following purposes:
Repayment/prepayment of borrowings - Rs 138 crore
Funding capital expenditure requirements (greenfield project in Surat) - Rs 163 crore
Funding working capital requirements - Rs 165 crore
General corporate purposes.
The total promoter holding in Aether Industries will decline from 96.96% to 87.09% post the IPO.
Financial Performance
AIL has posted a consistent increase in total revenue and profits over three financial years (FY19-21). The three part-business model works in perfect synergy. Its revenue from exports increased at a CAGR of 58.5% from Rs 100.09 crore in FY19 to Rs 251.6 crore in FY21.
The company reported a 32.5% YoY increase in revenue from operations to Rs 442.5 crore during the 9 months ended December 2021 (9M FY22). Net profit rose 72.7% YoY to Rs 82.9 crore during the same period. EBITDA stood at Rs 126 crore, up 64% YoY.
Risk Factors
Aether Industries faces various risks associated with operations involving the manufacture, usage, and storage of hazardous substances.
The company derives ~73% of its total revenue from top 20 customers (as of Dec 31, 2021). Its operations will be adversely affected if these customers choose not to source their requirements from AIL or if they terminate long-term contracts.
Non-compliance with safety, health, and environmental laws will severely harm AIL's business.
The company does not have long-term agreements with suppliers of raw materials. A surge in the cost of raw materials or any shortfall in supply could adversely impact its overall operations.
All of AIL's manufacturing facilities are located in Gujarat, exposing them to regulatory or geography-specific risks.
IPO Details in a Nutshell
The book-running lead managers to the public issue are HDFC Bank and Kotak Mahindra Capital. AIL filed the Red Herring Prospectus (RHP) for its IPO on May 16. You can read it here. Out of the total offer, 50% is reserved for Qualified Institutional Buyers (QIBs), 15% for Non-Institutional Investors (NIIs), and 35% for retail investors.
Ahead of the IPO, AIL raised Rs 240 crore from anchor investors.
Conclusion
The chemical industry is one of the most vital and fastest-growing industries in our country. Numerous companies thrive in this sector, which makes it highly competitive. They have flourished mainly due to the surge in demand from the agricultural, pharmaceutical, material science, and paint industries. As per a report from India Brand Equity Foundation (IBEF), the specialty chemicals sector is expected to grow at an annual growth rate of 12.4% to $64 billion within the next three years. The strong R&D capabilities and differentiated portfolio of products will help Aether Industries effectively compete in this sector.
AIL will be competing with leading players like Clean Science & Technology Ltd, Navin Fluorine International, Vinati Organics, PI Industries, and Fine Organics Ltd once it gets listed. You can read our in-depth analysis of India's chemical industry here.
AIL's IPO shares are trading at a premium of Rs 4 in the grey market. Before applying to this IPO, we will wait to see if the portion reserved for institutional investors gets oversubscribed. Do consider the risks associated with the company and come to your own conclusion.
What are your views on Aether Industries Ltd's IPO? Will you be applying for it? Let us know in the comments section of the marketfeed app!
Post your comment
No comments to display