Aditya Birla Sun Life AMC IPO: All You Need to Know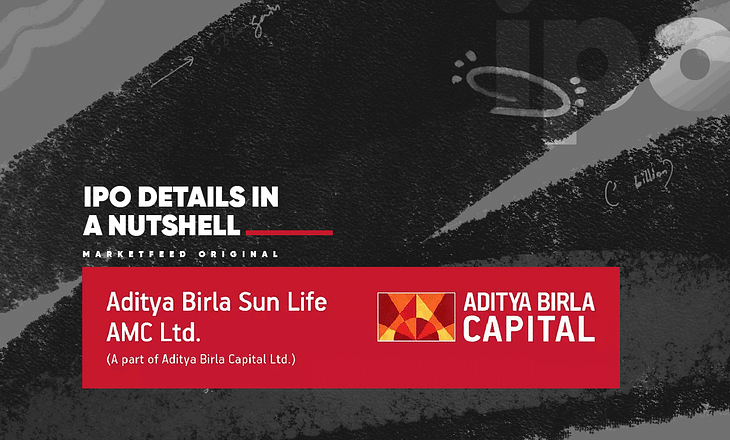 Another week, another IPO! Aditya Birla Sun Life AMC has launched its three-day initial public offering (IPO) today— Sept 29. It will be the fourth major fund house to list on the Indian stock exchanges. Let us dive into the details surrounding the company and its IPO.
Company Profile - Aditya Birla Sun Life AMC Ltd
Aditya Birla Sun Life AMC is the largest non-bank affiliated asset management company (AMC) in India in terms of quarterly average assets under management (QAAUM). It is a joint venture between Aditya Birla Capital Ltd and Sun Life (India) AMC Investments Inc. An AMC pools funds from clients and invests them into various financial instruments such as stocks, bonds, real estate units, etc. Established in 1994, ABSL AMC has a well-diversified product portfolio with innovative schemes. It manages equity schemes, debt schemes, liquid schemes, exchange-traded funds (ETFs), and domestic fund-of-funds (FoFs).
ABSL AMC has automated and digitised several aspects of its operations, including customer onboarding, online payments, fund management, accounting, and data analytics. However, the company is highly dependent on third-party channels for the distribution of its mutual funds. It is a well-recognized and trusted brand with experienced promoters. You may have come across their offerings while analysing mutual fund schemes.
Factsheet
The company had a total AUM of Rs 2.93 lakh crore under its suite of mutual funds (excluding domestic FoFs), portfolio management services, offshore and real estate offerings as of June 2021.
Since its inception, ABSL AMC has established an extensive pan-India presence, covering 284 locations. It has over 240 national distributors and ~100 bank/financial intermediaries.
As of June 30, 2021, the AMC managed a total of 118 schemes— 37 equity schemes, 68 debt schemes, two liquid schemes, five ETFs, and six domestic FoFs. In addition, the company manages a total AUM of ~Rs 11,515 crore as part of its portfolio management services and offshore real estate offerings.
The company's monthly average assets under management (MAAUM) from institutional investors stood at Rs 1.503 lakh crore as of June 30, 2021, and was the fourth-largest amongst its peers.
About the IPO
Aditya Birla Sun Life AMC's public issue opens on September 29 and closes on October 1. The company has fixed Rs 695-712 per share as the price band for the IPO.
The offer for sale (OFS) of up to 3.88 crore equity shares from existing shareholders aggregates to Rs 2,768.26 crore. Individual investors can bid for a minimum of 20 equity shares (1 lot) and in multiples of 20 shares thereafter. You will need a minimum of Rs 14,240 (at the cut-off price) to apply for this IPO. The maximum number of shares that can be applied by a retail investor is 280 equity shares (14 lots).
The main objective of the IPO is to provide an exit strategy (or liquidity) to ABSL AMC's shareholders and early investors. Thus, the company is not raising any funds through the public issue. It aims to achieve the benefits of listing the equity shares on NSE and BSE. The total promoter holding in the company will decline from 100% to 86.5% post the IPO.
Financial Performance
From the table, it is clear that ABSL AMC has been reporting growth in profits despite declining revenues. The surge in profits can be attributed to declining fees and commission expenses every once in a while. The company's revenue from operations rose 29.85% quarter-on-quarter (QoQ) to Rs 333.24 crore in the April-June quarter (Q1 FY22). Meanwhile, the profit attributable to owners increased by 59.15% QoQ to Rs 154.94 crore during the same period.
The company's market-leading position across categories, product mix, and scale have contributed to a strong financial performance. Aditya Birla Sun Life AMC is the third-largest AMC in terms of total income and had the highest Return on Net Worth (RoNW) of 30.87% in FY21. RoNW signifies how well the company uses shareholders' capital to generate profits.
Risk Factors
The company's revenue and profits are dependent on the assets under management (AUM) of their schemes. Any adverse changes in AUM can result in poor financial performance.
The extent of the impact of Covid-19 on its operations is highly uncertain and unpredictable. High volatility in stock markets could cause investors to reduce their investments in the funds managed by ABSL AMC and eventually reduce its AUM.
The underperformance of ABSL AMC's investment products could lead to loss of investors and a reduction in AUM. The company's business would be severely affected if they are unable to retain investors.
Unfavourable interest rates, defaults, and credit risk related to the debt portfolio of funds may expose the company's funds to losses. Similarly, any unfavourable investment opportunities and poor economic conditions could restrict AUM growth.
ABSL AMC's historical growth rates may not be indicative of its future growth. The company's overall performance would be adversely affected if it does not successfully implement business plans.
The company's business is subject to extensive regulation, including periodic inspections by SEBI. Non-compliance with existing regulations or the failure to obtain and renew regulatory approvals could expose ABSL AMC to penalties.
IPO Details in a Nutshell
The book-running lead managers to the public issue are Axis Capital, BofA Securities India, Citigroup Global Markets India, HDFC Bank, ICICI Securities. Other lead managers include Kotak Mahindra Capital, Motilal Oswal Investment Advisors, SBI Capital Markets, and IIFL Securities. Aditya Birla Sun Life AMC Ltd had filed draft papers for its IPO in November 2020. You can read it here.
Ahead of the IPO, the company raised Rs 788.95 crore from anchor investors. The marquee investors include HSBC, International Monetary Fund, Abu Dhabi Investment Authority, Morgan Stanley Asia, BNP Paribas, and Societe Generale.
Conclusion
Aditya Birla Sun Life AMC caters to a wide range of retail investors, high net-worth individuals (HNIs), and institutions through its vast network. It has maintained a market-leading position in B-30 (beyond top 30 cities) penetration over the years. This factor has contributed to the growth of its investor base as well as improvement in profitability. The Indian mutual fund industry's overall AUM is projected to sustain a higher growth trajectory of 11-13% CAGR to reach Rs 57 lakh crore by 2026. The industry is witnessing a significant increase in net inflows from investors every month. The company is well-positioned to attract a large segment of the Indian mutual fund market that varies across customer requirements and risk profiles.
ABSL AMC will be directly competing with leading players such as HDFC AMC, Nippon Life AMC, and UTI AMC once it gets listed. There is scope for asset management companies to grow even further.
Before applying for the IPO, we will wait to see if the portion reserved for institutional investors gets oversubscribed. The company's IPO shares were trading at a premium of Rs 27 in the grey market today. As always, make sure you carefully weigh out the pros and cons of the company and come to your own conclusion.
What are your opinions on this IPO? Will you be applying for it? Let us know in the comments section of the marketfeed app.
Post your comment
No comments to display