Adani Ports to Buy Back up to Rs 1,620Cr of 2024 Bond - Top Indian Market Updates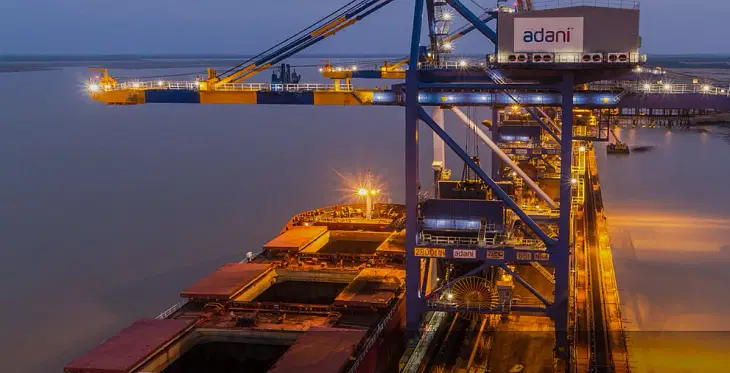 Here are some of the major updates that could move the markets tomorrow:
Adani Ports to buy back up to ₹1,620Cr of 2024 bond
Adani Ports & Special Economic Zone (SEZ) commenced a cash tender offer for up to $195 million (~₹1,620 crore) to partly prepay its near-term debt maturities. The company started a buyback programme of some debt securities in April to prepay part of its near-term loans due in 2024. The tender offer is to buy the outstanding 3.375% senior notes due in 2024 for up to $195 million in cash.
Read more here
Bank of Maharashtra fails to attract buyers for loans to Asian Hotels
Bank of Maharashtra failed to receive any firm bids for its loans of Asian Hotels (North) at the auction held on Tuesday. Asian Hotels (North) operates the five-star property Hyatt Regency (Delhi). According to the auction notice from the bank, it had set a reserve price of ₹330 crore as against the outstanding dues of ₹ 324 crore.
Read more here.
Dixon Tech signs manufacturing agreement with Xiaomi
Dixon Technologies Ltd's subsidiary, Padget Electronics Pvt Ltd, has entered into an agreement with Xiaomi to manufacture smartphones and other related products. The manufacturing will take place at Padget's manufacturing facility in Noida. The deal will help Xiaomi India leverage Dixon's status of being cleared to receive sops under the government's production-linked incentive (PLI) scheme for mobile manufacturing.
Read more here.
NMDC's China exports hindered by logistics
According to a Reuters report, NMDC is unable to export low-grade iron ore to China due to logistics issues. The company did not immediately reply to a Reuters email seeking comments. There is a severe shortage of rakes to move the ore anywhere in the country which is affecting exports. China imports around 80% of India's overall shipments.
Read more here.
Apollo acquires under-development hospital asset from Future Oncology in Kolkata
Apollo Hospitals has acquired a partially built hospital in Sonarpur, Kolkata, from Future Oncology Hospital and Research Centre for ₹102 crore in an all-cash deal. The acquired hospital has a total capacity of 325 beds. The acquisition is being fully funded through internal accruals by Apollo Multi Speciality Hospitals, a wholly-owned subsidiary of Apollo Hospitals.
Read more here.
ADIA looks to invent $600 million into RIL's retail business
According to an Economic Times report, Abu Dhabi Investment Authority (ADIA) is looking to buy an additional stake in Reliance Retail. ADIA is seeking to invest $600 million into Reliance Retail at valuations that significantly exceed those during an earlier concluded fundraising round three years ago.
Read more here.
Tata Power Renewable Energy to set up 41 MW captive solar plant for TP Solar
Tata Power Renewable Energy Ltd (TPREL) will set up a 41 MW captive solar plant at Thoothukudi, Tamil Nadu. The plant is for TP Solar's new greenfield 4.3 GW solar cell and module manufacturing facility located at Tirunelveli, Tamil Nadu. The solar project will be commissioned 12 months from the signing of the Project Development Agreement (PDA). TPREL is a subsidiary of Tata Power.
Read more here.
Glenmark signs agreement to market Cosmo Pharma's acne cream in Europe, South Africa
Glenmark Specialty SA (GSSA) has signed distribution and licence agreements with Cosmo Pharmaceuticals NV for Winlevi, which is used in treating acne. The company will market and distribute Winlevi in Europe and South Africa. Glenmark Speciality SA will receive exclusive rights from Cosmo's subsidiary to commercialise Winlevi in 15 EU countries and South Africa. GSSA is a subsidiary of Glenmark Pharma.
Read more here.
Aditya Birla Capital gets ₹750 crore investment in subsidiary
Aditya Birla Capital Ltd (ABCL) announced investment in its wholly-owned subsidiary. The company is making an investment of around ₹750 crore on a rights basis in the equity shares of Aditya Birla Finance Ltd (ABFL). ABCL is investing in ABFL to meet its growth and funding requirements and improve its leverage ratio.
Read more here.
Post your comment
No comments to display