Adani Ports Posts 8% Growth in Volumes in Dec - Top Indian Market Updates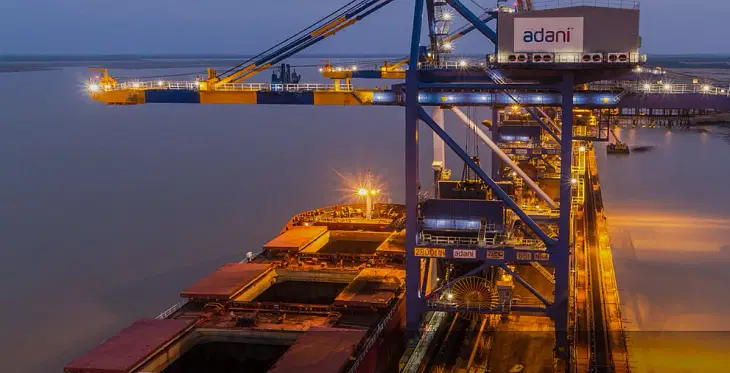 Here are some of the major updates that could move the markets tomorrow:
Adani Ports records 8% growth in container volume in Dec
Adani Ports & Special Economic Zone (APSEZ) handled 25.1 million metric tonnes (MMT) of cargo in December 2022, recording an 8% YoY growth in container volumes. The company registered 253 MMT of cargo volumes for the April-December period of 2022, up 8% YoY. APSEZ is the largest port developer and operator in India with 6 strategically located ports and terminals.
Read more here.
Bajaj Finance records highest ever quarterly increase in customer franchise
Bajaj Finance Ltd. reported the highest-ever quarterly increase in its customer franchise in the December quarter (Q3 FY23). The company's customer franchise increased by 3.1 million during the quarter. Overall customer franchise at the end of December stood at 66 million, compared to 55.4 million during the same period last year. Bajaj Finance's Assets under Management (AUM) grew 27% YoY to ₹2.3 lakh crore in Q3.
Read more here.
Lupin launches novel drug combination for asthma treatment
Lupin has launched a novel fixed-dose triple drug combination (FDC) in India under the brand name DIFIZMA. It is a dry powder inhalation (DPI) product that will improve lung function among patients facing inadequately controlled asthma by providing them with better symptom control. DIFIZMA is the only FDC that has received approval from the Drug Controller General of India for asthma treatment.
Read more here.
Grasim Industries incorporates subsidiary for business support services
Grasim Industries Ltd announced the incorporation of a wholly-owned subsidiary company, Grasim Business Services Pvt. Ltd. The new entity will offer business support services, including staffing solutions. The newly incorporated company has an authorised capital of ₹1 crore and subscribed capital of ₹10 lakh.
Read more here.
Domestic air passenger traffic grows 15% in December: ICRA
According to rating agency ICRA, India's domestic air passenger traffic registered a 15% year-on-year (YoY) growth to around 129 lakh in December 2022. However, it remained 1% lower than the pre-pandemic level of December 2019. The domestic aviation industry operated at an estimated passenger load factor of around 91% in December 2022, compared to 80%in December 2021 and about 88% in Dec 2019.
Read more here.
Vodafone Idea equity conversion complex issue, under discussion: Ashwini Vaishnaw
Minister of Communications Ashwini Vaishnaw said debt-ridden Vodafone Idea (Vi) would need capital infusion, and equity conversion is a "complex issue" that is under discussion. The government's equity conversion in Vi has been a matter of concern for the telecom operator's survival. The accrued interest on AGR-related dues stands at ₹16,130 crore and the conversion may allow the Indian government to hold a majority stake of close to 33% in Vodafone Idea.
Read more here.
IndiGo launches 168 weekly flights to new Goa airport
InterGlobe Aviation Ltd (IndiGo) has launched 168 weekly flights from Goa's new airport. The airline will operate these flights between Mopa and 8 domestic destinations like Hyderabad, Delhi, Mumbai, Bangalore, Chennai, Pune, Jaipur, and Ahmedabad. At present, the new airport can handle 4.4 million passengers annually and will be developed further in phases.
Read more here.
Residential housing sales at decadal high in 2022
The residential real estate sector witnessed a robust demand revival in 2022, with the year registering a decadal high of primary home sales across the top seven cities despite the rise in mortgage rates and property prices. The performance in 2022 with 2.15 lakh apartments ranks next to the peak of 2.16 lakh units achieved in 2010 in key markets like Mumbai, Delhi-NCR, Bengaluru, Hyderabad, Chennai, Kolkata, and Pune.
Read more here.
Saudi Arabia cuts oil prices for main market as demand slows
Saudi Arabia cut oil prices for Asia, signaling that demand in its main market remains sluggish as economies slow and Covid-19 cases in China surge. Brent crude futures have fallen from almost $125 a barrel in June to less than $80, with prices declining 7.5% so far this week. High interest rates and a strong dollar have hit demand in the US, Europe, and China.
Read more here.
Post your comment
No comments to display