Adani Ports' Cargo Volumes Rise 18% YoY in August - Top Indian Market Updates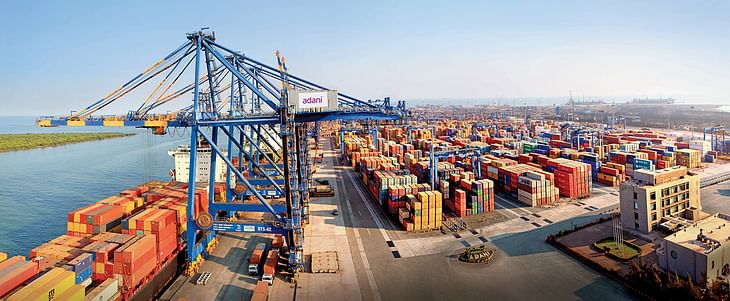 Here are some of the major updates that could move the markets on Monday:
Adani Ports' cargo volumes rise 18% YoY in August
Adani Ports & Special Economic Zone Ltd (APSEZ) handled 29.3 million metric tonnes (MMT) of cargo in August 2022, recording an 18% YoY increase. Dry bulk volume grew by 44% YoY and containers by 8% YoY last month. In the initial five months of FY23, the company managed 151.4 MMT of cargo, an 11% YoY increase over the corresponding period last year.
Read more here.
Spicejet likely to receive around ₹225 crore next week as part of ECLGS
According to an ET NOW report, SpiceJet Ltd is likely to receive around ₹225 crore next week as a part of the Emergency Credit Line Guarantee Scheme (ECLGS). The funds will be used to clear statutory dues and lessor payments. The airline had applied for ₹280 crore loans under the ECLGS.
The ECLGS was launched by the Central Govt. in wake of the Covid-19 pandemic in 2020. It provides guarantee coverage to banks and NBFCs to enable them to extend emergency credit to various industries to meet their working capital requirements.
Read more here.
IndusInd Bank partners with ADB to support supply chain financing
IndusInd Bank has announced a strategic partnership with Asian Development Bank (ADB) to promote supply chain finance (SCF) solutions in India. The bank has entered into a partial guarantee program with ADB with an initial outlay of ₹560 crore, exclusively towards promoting SCF solutions. Recently, the bank launched a state-of-the-art digital portal for SCF called 'earlyCredit'. It enables 24x7 seamless processing of SCF transactions for corporates, suppliers, and dealers.
Read more here.
State-run oil companies post strong August sales
State-run oil companies sold 16% more petrol and 23.5% more diesel in August over the previous year as economic activity gathered pace and sales at private retailers fell. Increased mobility for work and pleasure in an expanding economy has contributed to strong demand for petrol. The demand growth in retail sales of diesel is due to the bulk buyers shifting to petrol pumps to source cheaper supplies.
Read more here.
Vodafone Idea partners with Maxamtech to launch gaming content
Vodafone Idea Ltd (Vi) has partnered with Maxamtech Digital Ventures to launch multiplayer and competitive gaming content under 'Vi Games' to align itself with evolving customer preferences. Vi Games now offers over 40 competitive and skilled multiplayer games. Widening the participation opportunity for multiplayer gaming on Vi Games, Vi has extended the service to non-Vi users as well in a bid to attract more users.
Read more here.
Bank of Baroda raises ₹2,474 crore by issuing bonds
Bank of Baroda has raised ₹2,474 crore by issuing bonds at the rate of 7.88% through stock exchanges. The bank allotted a total of 2,474 unsecured Basel-III Additional Tier-I perpetual non-convertible bonds (NCDs), valuing ₹1 crore each. Perpetual bonds carry no maturity date and can be treated as equity rather than debt.
Read more here.
Steel prices in India to remain under pressure over near future: ICRA
A research report from ICRA stated that steel prices are expected to remain under pressure in India over the near future as prices in the domestic market cannot be cushioned by global trends. The rating agency also expects steel demand in the domestic market to grow at 7-8% in the current financial year (FY23). Steel mills in India face a tough time ahead as the external environment is becoming more challenging in key global consumption markets.
Read more here.
Wipro partners with Cisco to deliver hybrid cloud-as-a-service
Wipro Ltd has partnered with Cisco to accelerate cloud transformation for customers. The partnership will enable Wipro's clients to deploy Wipro FullStride Cloud Service to enable a fully automated hybrid-cloud stack, reducing the implementation time and enhancing the user experience. Cisco and Wipro will bring together the edge, private, and public clouds to create an agile and adaptable hybrid cloud solution.
Read more here.
Zydus Lifesciences, Lupin recall products in US market owing to manufacturing issues
Zydus Lifesciences Ltd and Lupin are recalling products in the US due to manufacturing issues. As per an Enforcement Report by US Food & Drug Administration (USFDA), Zydus is recalling 1,116 boxes of Fulvestrant Injection, a drug used to treat breast cancer. The company's US-based unit is recalling the affected lot due to "Failed Impurities/Degradation Specifications."
Meanwhile, Lupin Pharmaceuticals, Inc. is recalling 7,872 bottles of Rifampin Capsules, a medication used to treat infections caused by bacteria.
Read more here.
Post your comment
No comments to display