Adani Group to Become India's Second Largest Cement Maker!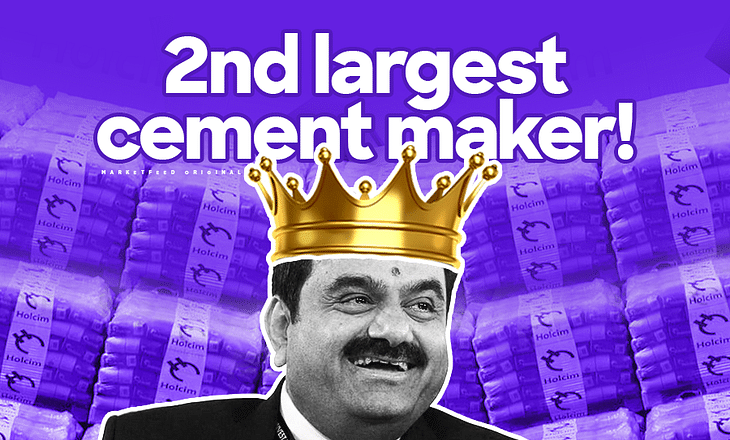 The Adani Group has entered into definitive agreements to acquire a majority stake in Holcim AG's cement businesses in India for a whopping $10.5 billion (~Rs 81,361 crore)! This buyout marks Adani's entry into the cement industry and makes it the second-largest cement producer in India. In this article, we dive into the details of the acquisition and find out how the conglomerate plans to establish itself in the cement sector.
The Adani-Holcim Deal
The Adani Group will acquire Switzerland-based Holcim's entire stake in two leading cement companies— Ambuja Cements Ltd and ACC Ltd. For the uninitiated, Holcim is the world's largest cement manufacturer.
Through its subsidiaries, Holcim holds a 63.19% stake in Ambuja Cements and a 4.48% stake in ACC. [Ambuja Cements holds a 50.05% stake in ACC.]
The Ahmedabad-based conglomerate will offer Rs 385 per share for Ambuja Cements and Rs 2,300 per share for ACC Ltd.
With this acquisition, Adani Group will become the second-largest cement maker in India after Aditya Birla's UltraTech Cement.
The group will establish its new materials, metal, and mining vertical once the deal is completed.
The sale of Holcim's Indian business is expected to close in the second half of 2022.
Why is Holcim Leaving India?
After 17 years of steady operations, Holcim decided to exit its cement business in India. The exit is part of its 'Strategy 2025' initiative, which aims for sustainable solutions for the building materials sector. Cement is the most consumed product in the world. However, its production adversely affects the environment due to high levels of carbon dioxide emissions.
Thus, Holcim is going green and trying to reduce its dependence on cement. They have already sold stakes in cement operations across Brazil, Indonesia, Malaysia, and Zimbabwe. The company plans to diversify and ramp up its business in building materials (roofing, waterproofing, insulation, etc.) globally.
As per reports, many believe that intense scrutiny of the Competition Commission of India (CCI) on Holcim's India operations could also be one of the reasons why the company was in a hurry to move out. The CCI opened its second investigation against Holcim in December 2020.
The Way Ahead
Over the past few years, Adani Group has diversified beyond its core businesses of operating ports, coal mines, and power plants into airports, data centres, and green energy. Now, its foray into cement production looks highly promising. In 2021, the group set up two cement subsidiaries— Adani Cementation Ltd and Adani Cement Ltd. It had announced plans to establish two cement manufacturing units in Dahej (Gujarat) and Raigarh (Maharashtra).
Ambuja Cements has a cement capacity of 31 million tonnes (MT), with six integrated cement manufacturing plants and 8 cement grinding units across India. Meanwhile, ACC operates 17 cement production units and nine captive power plants. It has a distribution network of 56,000 dealers and retailers across our country. With the deal finalized, Adani's total production capacity will stand at ~70 metric tonnes per annum (MTPA)! With its deep expertise in infrastructure development, logistics, and renewable energy, the group aims to achieve higher margins in its cement business.
Cement is one of the most vital substances required in the construction sector. India's current cement consumption stands at just 242 kg per capita, compared to the global average of 525 kg per capita. The growing middle class, rapid urbanisation, affordable housing projects, and post Covid-19 recovery in construction activities are likely to drive growth in the cement sector.
Let us look forward to seeing how the Adani Group executes its strategic plans! Will they be able to beat UltraTech Cement and become a leader in the cement sector? Let us know your views on this acquisition in the comments section of the marketfeed app.
Post your comment
No comments to display