Adani Group to Acquire 29.2% Stake in NDTV - Top Indian Market Updates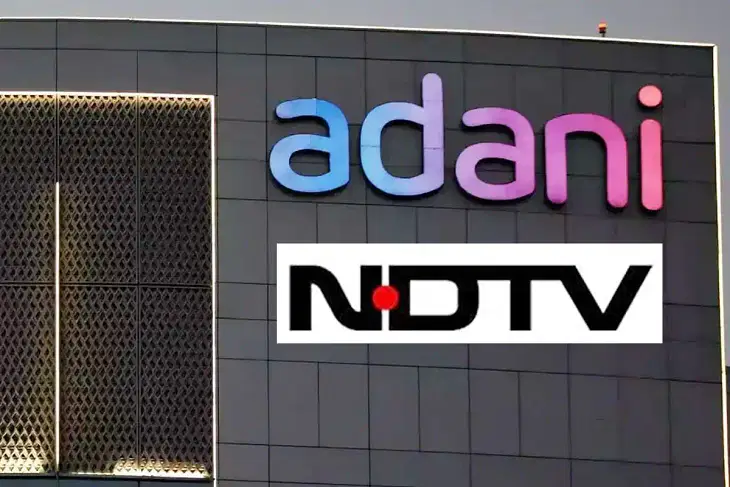 Here are some of the major updates that could move the markets tomorrow:
Adani Group to acquire 29.2% stake in NDTV
Adani Group's media arm announced it will indirectly acquire a 29.18% stake in New Delhi Television Ltd (NDTV) and launch an open offer for another 26% stake in the media house. Three firms, Vishvapradhan Commercial Pvt. Ltd., AMG Media Networks, and Adani Enterprises Ltd, will acquire up to 1,67,62,530 fully paid-up equity shares of NDTV (having a face value of Rs 4) at Rs 294 per share from the public shareholders.
Read more here.
India's crude oil production falls 3.8% in July
India's crude oil production fell 3.8% YoY in July on lower output from fields operated by state-owned ONGC and private sector firms. Production of crude oil fell from 2.54 million tonnes (MT) in July 2021 to 2.45 MT in July 2022. ONGC's total production fell 1.7% YoY to 1.63 MT due to lower output from western offshore. The country's 22 oil refineries processed 10.52% more crude oil at 21.43 million tonnes as demand for fuel picked up.
Read more here.
Godrej Agrovet signs MoU with 3 states on oil palm cultivation
Godrej Agrovet Ltd has signed Memorandum of Understandings (MoUs) with the governments of Assam, Manipur, and Tripura for the development and promotion of oil palm cultivation under the National Mission on Edible Oils-Oil Palm scheme. The company will be allotted land in the three states for developing sustainable palm oil plantations in the region. In August 2021, the Indian govt launched the National Mission on Edible Oils-Oil Palm scheme with a planned outlay of Rs 11,040 crore.
Read more here.
NHPC signs pact with BEL to set up solar equipment manufacturing facility
NHPC Ltd has signed a pact with Bharat Electronics Ltd (BEL) to set up a large-capacity solar equipment manufacturing facility. State-owned hydro power giant NHPC has an installation base of 7071.2 megawatts (MW) from 24 power stations. It is engaged in the construction of 11 projects aggregating to a total installed capacity of 7,539 MW.
Read more here.
SpiceJet plans to raise funds worth $251 million: Report
As per a report from ET Now, SpiceJet Ltd is looking to raise funds worth $250.53 million (~Rs 1,998 crore). The low-cost airline is pursuing multiple ways to raise funds, including government lending schemes or equity sales. SpiceJet has been under the scanner lately, following incidents of technical snags that prompted India's aviation regulator to order a reduction in its approved fleet by 50% for eight weeks.
Read more here.
Ramco Systems partners with Australian freight and distribution service provider
Ramco Systems Ltd will implement its Logistics ERP Software at Freight Specialists to automate company-wide operations and services. The software will include modules for transportation, warehouse, and invoice management. It will offer superior user experience, end-to-end visibility, and control while enabling real-time operational excellence. Freight Specialists is a leading freight and distribution services provider based in Sydney, Australia.
Read more here.
India to become world's number one producer of steel: Jyotiraditya Scindia
Union Minister Jyotiraditya M Scindia said India will become the number one producer of steel in the world in the days to come. He was of the view that our country has moved from becoming the net importer of steel to the net exporter of steel. Currently, India is the world's second-largest producer of crude steel after China. The per capita steel consumption has increased from 57.8 kg in 2013-14 to 78 kg. The government intends to achieve 300 million tonnes (MT) of steel production target by 2030.
Read more here.
GMDC to hire consultants to set up modular lignite washery
Gujarat Mineral Development Corporation (GMDC) has invited requests for proposals (RFPs) for technology consultants for the dry beneficiation technology sulphur removal plant. The company aims to set up a modular lignite washery to remove pyrites/sulphur from lignite produced from the company's Surkha (North) mines in Bhavnagar, Gujarat. This will help reduce sulphur dioxide emissions and improve boiler efficiency for the end users.
Read more here.
Tata Motors signs PPA with Tata Power to develop onsite solar project
Tata Motors has signed a Power Purchase Agreement (PPA) with Tata Power to develop a 7.25 megawatt-power (Mwp) onsite solar project at its commercial vehicle manufacturing facility in Jamshedpur. With this project, the onsite solar plant capacity of the facility will reach 14 MWp, which will generate 442 million units of green electricity having the potential to reduce carbon emission by 3.5 lakh tonnes.
Post your comment
No comments to display