Adani Group Stocks Which Made Investors RICH!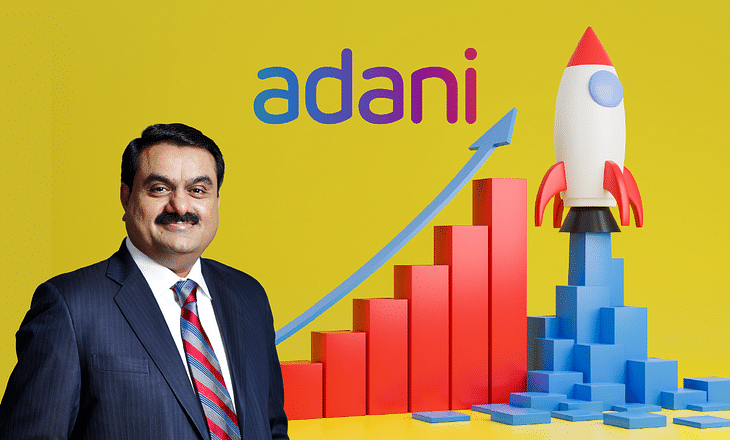 If you are a holder of any of the Adani stocks, I know you are smiling while you read this article. In a month where NIFTY has shown huge volatility and has kind of paused its bullishness, Adani stocks have clearly zoomed up! Covid-19 has been a challenging time for everyone but Gautam Adani (Chairman of Adani Group) must be happy with how his business has moved in the last 12 months. It seems like the investors are really bullish on Adani Group and the number of businesses it operates in. And maybe, this astonishing rally still has a long way to go! Here we discuss the six listed Adani stocks which will give you a better idea if you should invest in them or not.
Adani Ports
Adani Ports and Special Economic Zone Limited is one of the most talked-about companies in Nifty 50 in the last few months. In all honesty, even we were bamboozled by the growth Adani Ports have shown after Covid-19. We did a full-fledged article on Adani Ports last month to understand what their business is and how they operate. You can read the article here.
APSEZ is responsible for almost one-fourth of the total cargo movement in India. They provide services across three verticals, i.e. Ports, Logistics and Special Economic Zones (SEZs). With the aid of other Adani companies, like Adani Logistics Limited, they cater a number of services to people. From the Bay of Bengal to the Arabian Sea, Adani Ports are spread everywhere as they operate through 12 ports and terminals. The largest private Ports & Logistics company has got even bigger since we wrote the previous article.
Recent Happenings:
On 16th February 2021, Adani Ports completed the 100% acquisition of Dighi Port Limited (DPL) for Rs 705 crore. This addition became their 12th port under APSEZ's umbrella. The company plans to invest Rs 10,000 Cr to develop the port into a multi-cargo port.
On 3rd March 2021, Adani Ports announced that they will be acquiring a minority stake of 31.5% in Gangavaram Port Ltd (GPL) for Rs. 1,954 Crore from Warburg Pincus. Why is this announcement important? Because this acquisition will increase their market share to 30% in the next coming months. Gangavaram Port is the second-largest non-major port in Andhra Pradesh with a 64 MMT capacity.
After 20 days of getting a minor stake in GPL, they went on to acquire another 58.1% in Gangavaram Port from DVS Raju and family for Rs 3,604 crore. The two acquisitions gave them the controlling power by taking their stake in GPL to a total of 89.6%.
Adani Green
Adani Green Energy Limited (AGEL) is a green power generation company and one of the largest renewable companies in India. It has a current project portfolio of 14,815 MW. They own and operate solar and wind farm projects through which electricity is generated and supplied to central & state government entities and government-backed corporations.
They are present in 11 states across India with 54 operational projects and 12 more projects which are under construction. On 23 March 2021, Adani Green became the first company from the house of Adani to cross Rs 2 trillion market capitalisation (market-cap). No wonder why they hit a 5% upper circuit for straight three days! Also, in the pandemic, the stock has surged by a smashing 728%! I am not sure how many of us were able to enjoy this rally. But, if you benefit from this, do let us know in the comments section below.
Recent Happenings:
On 1st February 2021, Adani Solar Energy Four Private Limited, which is a subsidiary of Adani Green Energy, made a major announcement that took them closer to their vision of 25 GW capacity by 2025. The company commissioned 100 MW (2x50 MW) Solar Power Plants much ahead of the scheduled date of commissioning. This took Adani Green Energy's total operational renewable capacity to 3,245 MW.
On 8th March 2021, similar news came out from Adani Wind Energy Kutch Three Limited, which is another subsidiary of Adani Green. The subsidiary announced that they have commissioned a 100 MW Wind Power Plant in Kutch (Gujarat) 5 months ahead of its schedule. And not only this, but it was their 5th project commissioned before the date decided by the company. Astonishing keeping Covid-19 in mind.
On 20th March 2021, Adani Green announced that they acquired a 100% stake in an SPV holding 50 MW operating solar project of the Toronto-headquartered SkyPower Global.
On 22nd March 2021, Adani Renewable Energy Holding Fifteen Limited received a Letter of Award (LOA) for a 300 MW Wind project. The tender was issued by the Solar Energy Corporation of India (SECI) for setting up a 1200 MW connected Wind Power Project. This took Adani Green's total capacity of renewable energy project to 15165 MW.
On 24th March 2021, Adani Green announced that they have acquired a 100% stake in two SPVs holding 75 MW operating solar projects of Sterling & Wilson Private Limited. This took their operating renewable capacity of 3,470 MW.
Adani Power
Power companies have been on a roll for the last few months and Adani Power might be the biggest gainer of this rally. Adani Power is the largest private thermal power producer in India with a power generation capacity of 12,450 MW. These thermal power plants are present in Gujarat, Maharashtra, Karnataka, Rajasthan, and Chhattisgarh. Adani Power commissioned India's 1st thermal power unit based on super-critical technology.
On 25th March 2020, Adani Power's share closed at Rs 28.55. After one year, on 25th March 2021, it closed on Rs 104.35. A might rise by 265% in just one year! In Adani Power, almost 75% of the total stake is held by the promoters. In March 2020, 24.33% of total shares of promoters were pledged shares which is a very negative sign for investors. These are the shares that the promoters have used to borrow loans to meet business or personal requirements. Till December 2020, the percentage of pledges shared dropped to 21.9%. Although this drop is not huge, it is something which was applauded by the investors.
Adani Enterprises
Adani Enterprises is a company that focuses on establishing new businesses in the infrastructure and energy sector. Other companies like Adani Power, Adani Green, Adani Ports, Adani Gas were actually demerged from Adani Enterprises in the past years to independently list at the stock exchanges. Over the years, their expertise has aided them to expand in coal trading, coal mining, oil & gas exploration, ports, multi-modal logistics, power generation, and transmission and gas distribution.
Just like Adani Power, almost 75% of the total stake in Adani Enterprises rest with the promotors. In March 2020, 37.29% of the total holding held by promoters were pledged. By December 2020, the pledged shares have decreased to 12.43%. Also, FIIs hold 20.26% of the shares in the company which tells that they trust in the growth of Adani Enterprises.
Recent Happenings:
On 23rd February 2021, Adani Enterprises established a 50:50 joint venture with EdgeConneX, a leading global data centre operator. This joint venture will operate data centres across India.
On 15th March 2021, Adani Welspun Exploration Limited (AWEL) discovered gas in the Tapti-Daman Sector of Mumbai Offshore Block. Adani Welspun is the joint venture between Adani Group (65%) and Welspun Group (35%).
Adani Transmission
The group ventured into the transmission sector in 2006. It was 2015, that Adani Transmission was pulled out of Adani Enterprises' umbrella. This was done so that the company can focus on Transmission more where they felt the space to grow is enormous. Now, Adani Transmission has grown into the country's largest private transmission company.
It is a large capitalization company with a market cap of Rs 91,801. The growth of the company is not surprising when you see their financials. Over the last 5 years, ATL's revenue has grown at a yearly rate of 142.73% against an industry average of 7.73%. Not only this, their market share in the last five years has rocketed from 0.41% to 23.88%. The pledged shares have also decreased to 20% from 40% from March to December 2020.
Adani Gas
Adani Gas develops city gas distribution networks that help in supplying natural gas to the industrial, commercial and domestic sectors. They are another financially robust company in Adani Group. Since 2017, the total revenue and the total net income of the company have grown consistently.
In FY2017, Adani Gas reported a profit of Rs 101.18. This has surged by more than 4 times to Rs 436.32 in FY2020. Over the last five years, their net income has grown at a yearly rate of 35.35% against the industry average of 25.1%. They have 6 major integrated refining & petrochemical complexes and serve more than 8 million customers in their 15,000 service stations each day. From 25th March 2020 to 25th March 2021, Adani Gas has increased by a whopping 1020%.
Conclusion
It has the best 12 months for Adani Group in their history. Adani has added $50 billion to his fortune in the past year. And, just for a perspective, this is $5 billion more than Mukesh Ambani who stands as Asia's richest man. It seems like the protest against Adani and his coal projects are a thing of the past. Investors believe that Adani Group's umbrella of business will highly correlate with the growth of India in the coming years. This is why they are not shying away from showering their love on all of the Adani stocks. Have you made profits from Adani stocks? Or are you holding them for the last few months? Do let us know in the comments section below!
Post your comment
No comments to display