A Deep Dive Into Relaxo Footwear Ltd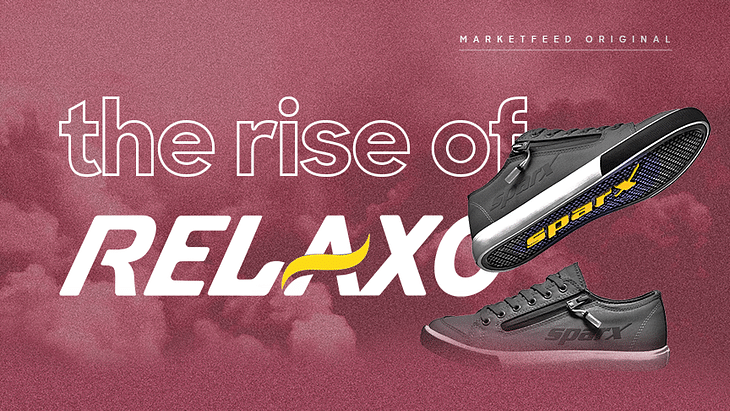 The footwear industry in India contributes nearly 2% to India's overall GDP. It employs over 25 lakh workers, making the sector one of the top employment generators in our country. It is also an engine of growth for the entire Indian leather industry.
India is only behind China as the largest producer of footwear globally, with 9% of the annual global production of 22 billion pairs. As per Invest India, India's contribution to global footwear production is 10.7%. Nearly 90% of the footwear produced in India is consumed by the domestic market, and the rest is exported. The revenue in the footwear market in India stood at $23.73 billion in 2022, and the market is estimated to grow annually at a 6.77% CAGR between 2022-2027.
Having said that, let's talk of an iconic brand synonymous with rubber slippers. It offers some of the most versatile footwear for all segments of society and reflects the attitude, style, dynamism, and spirit of young India. Yes, you guessed it right: it's none other than Relaxo!
In today's article, we throw light on how Relaxo monopolised the footwear industry in India and how it remains a trademark brand for most Indian households.
Relaxo's Origin Story
In the 1970s, two brothers, Mukand Lal Dua and Ramesh Kumar Dua, aspired to grow their father's footwear business. With an initial deposit of ₹10,000, they established the venture in Delhi and gave birth to what Relaxo is today— one of the largest and most popular footwear manufacturers in India.
Relaxo initially manufactured both footwear and cycle components. However, it discarded the second segment in 1976 and decided to concentrate solely on footwear. Its most popular brands— Relaxo, Sparx, Flite & Bahamas are a leader in their respective categories. Relaxo's range of footwear boasts a fine combination of comfort, style, and quality workmanship. The company offers a wide collection of fashionable, colorful, comfortable, and durable footwear. They have products for every age group and more than 6,000 Stock Keeping Units (SKUs).
With eight manufacturing units, Relaxo has the capacity to produce over 7.25 lakh pairs of footwear every day! It has a pan-India distribution footprint and a network of more than 50,500 stores. The company operates 50,000 multi-brand outlets (MBOs), and 402 exclusive brand outlets (EBOs). The company exports its products primarily to China and Sri Lanka.
Financial Performance
Over the years, Relaxo has consistently performed in a superior way. Even though Covid-19 restrictions severely impacted the sales of most footwear companies, Relaxo's sales declined by just 2.13%. The company sold around 19 crore pairs in FY21! Coming to most recent figures, it sold 3.9 crore pairs in Q2 FY23, down from 4.6 crore pairs sold in Q2 FY22.
Relaxo's sales have expanded remarkably faster than those of its competitors in terms of CAGR. The 3-year and 5-year sales CAGR growth of Relaxo Footwears was 6.7% and 6.6%, respectively. Meanwhile, CAGR sales growth was in the range of 1-3% for competitors Mirza International and Khadim India. Even in the past three years, Bata India, Liberty Shoes, and Sreeleather's sales growth had fallen to negative double digits.
Relaxo Footwears has also posted healthy double-digit margins over the years, while other footwear manufacturers have struggled in maintaining healthy and constant EBITDA margins.
In the quarter ended Sept (Q2 FY23), revenue stood at ₹670 crore, compared to ₹714 crore in Q2 FY22. There was a decline in volumes of categories serving the mass segment, which was experiencing inflationary pressures with reduced affordability. EBITDA stood at ₹59 crore as compared to ₹117 crore in the corresponding period of the previous year. EBITDA was under pressure due to high raw material prices.
Peer Analysis
Apart from organised and unorganised players, the market is now seeing listed players such as Metro Brands Ltd., Bata India, and Mirza International.
Regardless of high competition, Relaxo Footwears is able to maintain both quality and reasonable pricing. The organisation can sustain high profits because of a persistent focus on healthy margins, operational optimization, and capacity utilisation. This isn't necessarily true for its competitors that utilise an asset-light model or a hybrid approach that combines asset-light and in-house manufacturing. Due to its substantial dependence on outside manufacturers, Relaxo had an advantage during the Covid-19 disruptions, while others were more negatively affected.
The Challenges
Intense competition: In addition to developed and developing competitors, the market also includes unlisted competitors. We can anticipate initial public offerings from these firms in the upcoming months/years. In this circumstance, Relaxo can experience price undercutting, which might impact its profitability and margins.
Volatility in Commodity Prices: The production of footwear requires several important raw materials, including ethylene vinyl acetate (EVA), polyurethane (PU), and natural and synthetic rubber. The company's expenses are greatly impacted by the supply, volatility, and movements of prices of crude oil and its derivatives. EVA and PU are typically imported by Relaxo for the manufacture of footwear products. As a result, the company also runs the risk of fluctuations in the exchange rate.
High MBO Dependency: Relaxo Footwears is highly dependent on its 50,000 MBOs or retailers. The MBOs channel is under significant liquidity stress, which might harm the company's revenue trajectory.
The Way Ahead
The footwear industry is recognized by the Indian government as a priority sector under the Make In India mission. The Indian footwear industry expects to reach $27.84 billion by 2027, with the potential to grow 10-fold! Without a doubt, there is scope for footwear brands to flourish and strengthen leadership.
Relaxo Footwears seems to be ahead of its peers in this race. The firm has outperformed its competitors in terms of operational and capital efficiency as a result of strong internal manufacturing facilities, successful addition of higher value-added categories, and a solid distribution network. The company may benefit from these aspects in the years to come as well.
Do you think this multinational footwear manufacturer can continue to expand its market share and dominate the industry? Have you invested in Relaxo? Let us know your views in the comments section of the marketfeed app!
Post your comment
No comments to display