A Bright Future for Lithium-ion Battery Manufacturers?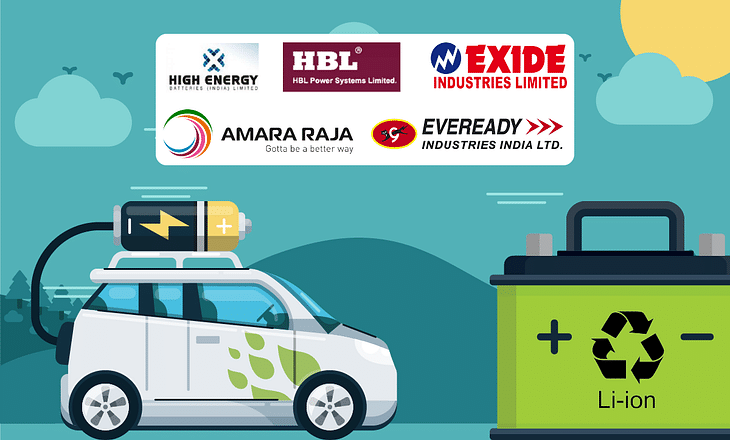 As we know, the demand for electric vehicles (EVs) in India has been showing a slight increase over the past few years. Automobile manufacturers such as Tata Motors, Mahindra Electric, and Hyundai have been designing and manufacturing EVs to suit the needs of Indian customers. The EV revolution is surely upon us, and our government has already introduced various policies to ensure that India becomes a 30% EV nation by 2030. However, there needs to be an adequate supply of lithium-ion (Li-ion) batteries to power these electric vehicles. 
Over the past few years, prominent battery manufacturers have established dedicated factories or plants to produce lithium-ion batteries. Many other companies have also declared that it would diversify into Li-ion cell manufacturing. Let us take a look at some of these listed companies.
Exide Industries
Exide Industries Ltd (EIL) is one of the leading manufacturers of lead-acid storage batteries in the world. They manufacture a wide range of batteries from 1.5Ah to 20,600Ah capacity. [Ampere-hour (Ah) and milliampere-hour (mAh) is used to measure how much electrical charge a particular battery will hold]. The Kolkata-based company designs and manufactures batteries for the automotive, power, telecom, infrastructure projects, and computer industries. It has secured a market share of around 59%. Most of the cars and bikes plying on our roads today are powered by an Exide battery. EIL has a total of 9 factories strategically located all over India. It also has more than 150 warehouses and sales offices.
Over the years, they have successfully entered into technical partnerships with leading global storage battery manufacturers such as Furukawa of Japan, Oldham of UK, and East Penn Manufacturing of the US. This has enabled them to establish a strong international presence. The company's unique research & development (R&D) activities have helped them grow and develop a wide range of batteries. Exide has subsidiaries in the UK, Singapore, and Sri Lanka, and export their products to more than 50 countries.
In 2018, Exide Industries entered into a joint venture with Switzerland-based Leclanché to build lithium-ion batteries and provide energy storage solutions. They saw great potential in the growth of electric vehicles in India. Recently, the company also launched the Exide Li-ion Motorbike & Sport battery range.
Financial Performance of Exide
Exide has been reporting consistent financial growth over the past few years. In the previous financial year (FY20), the company's total revenue stood at Rs 9,857 crore. Over the last 5 years, its revenue has grown at a yearly rate of 8.58%, whereas the industry average revenue stood at 7.61%.
The company's consolidated net profit for the quarter ended September 2020 (Q2) increased by 3.81% YoY to Rs 256.62 crore. Amidst the Covid-19 pandemic, the company has focussed on controlling costs, upgrading its technology capabilities, and improving profitability.
Since the beginning of FY21, the share price of Exide Industries has increased by more than 41% so far.
Amara Raja Batteries
Amara Raja Batteries Ltd (ARBL), is the flagship company of the Tirupati-based Amara Raja Group. It is one of the largest manufacturers of lead-acid batteries for both industrial and automotive applications in the Indian storage battery industry. The company's client list includes prominent automobile manufacturers such as Maruti Suzuki India Ltd, Hyundai Motors India Ltd, Ford India Ltd, Tata Motors Ltd, Mahindra & Mahindra Ltd, Royal Enfield, Bajaj Auto Ltd, and many more. It exports its products to more than 32 countries globally. Interestingly, the Taj Mahal is powered by Amara Raja Batteries!
Since 2018, the company has established lithium-ion battery plants to meet the growing demand for electric vehicle power packs. It has built a 100 megawatt-hour assembly plant in Andhra Pradesh. Amara Raja has been primarily interested in winning demand from the FAME scheme, which aims to subsidize electric buses and three-wheelers in India.
Performance
Amara Raja Batteries has been able to secure a consistent increase in their overall sales over the past 5 years. In FY 2019-2020, the company reported total revenue of Rs 6,839 crore. Over the last 5 years, its revenue has grown at a yearly rate of 10.14%, whereas the industry avg stood at 7.61%. The company has been able to secure a market share of about 28%.
In Q2 FY21, the company had reported a 7.93% YoY decline in consolidated net profit. However, its revenue from operations had jumped 14.16% YoY to Rs 1,935.52 crore during the same period. The company announced that it had increased the operations at its manufacturing facilities to keep pace with the high demand.
Since the beginning of FY21, the share price of Amara Raja Batteries has increased by more than 94% so far!
Eveready Industries
Eveready Industries India Ltd is the flagship company of the B. M. Khaitan Group. The company primarily manufactures zinc-carbon batteries, alkaline batteries, and rechargeable batteries. They also produce lithium-ion torches and LED bulbs. Eveready is the world's third-largest producer of carbon-zinc batteries, selling more than 100 crore units a year. The Group's operating facilities are located in Kolkata, Bengaluru, Chennai, Hyderabad, Noida, Gurgaon, and Navi Mumbai.
Over the last 5 years, Eveready's revenue has grown at a yearly rate of 2.04%, whereas the industry average stood at 7.61%. During the previous financial year, the company reported a revenue of Rs 1,419.31 crore. However, the company's market share has decreased to 5.79% over the last 5 years. For the quarter ended September 2020 (Q2), the company reported a 3 fold increase in consolidated net profit to Rs 57.22 crore. The company stated that its core categories of batteries and flashlights continue to witness a healthy demand. This has been due to the sharp decrease in dumped imports from China and the disruptions caused to the unorganized market amidst the Covid-19 pandemic.
The share price of Eveready Industries has surged by 290% so far during the current financial year.
HBL Power Systems
HBL Power Systems Ltd initially began as a manufacturer of aircraft batteries. The company has been able to successfully diversify its range of batteries to meet the demand for industrial electronics, defence electronics, and railway electronic signalling. Currently, HBL designs and manufactures Lead Acid Batteries, Nickel-Cadmium Batteries, and Specialized Defense Batteries. HBL has established its presence in the US, UK, and other European countries as well.
The Hyderabad-based company's total income for FY20 stood at Rs 1,114 crore. However, over the last 5 years, the company's revenue has grown at a yearly rate of -4.09%, whereas the industry average stood at 7.61%. During the same period, HBL's market share has reduced to 4.54%. HBL Power Systems' consolidated net profit for the quarter ended September (Q2) had increased by 38.98% YoY to Rs 9.02 crore.
Interestingly, HBL's share price has surged by more than 235% since April 2020.
High Energy Batteries
High Energy Batteries (India) Limited is a Tamil Nadu-based manufacturer of batteries. The company operates through two segments: AeroSpace, Naval, & Power System Batteries, and Lead Acid Storage Batteries. High Energy's principal products include aerospace, naval, & power system batteries, nickel-cadmium batteries, and lead-acid storage batteries. It offers aircraft batteries, torpedo batteries, missiles batteries, and helicopter batteries for the defence sector. The company's hi-tech batteries are used in army, navy, airforce, and launch vehicles. The batteries manufactured by them are also used for various applications, such as underwater propulsion, control guidance, communication, emergency starting, and aerospace.
Over the last 5 years, High Energy Batteries' revenue has grown at a yearly rate of 9.48%. Currently, the company has been able to secure a market share of 3.34%. Its revenue for the previous financial year stood at Rs 61.66 crore.
During the current financial year, the stock price of the company has jumped by more than 177% so far.
Conclusion
Li-ion cells are considered to be the heart of electric vehicles. Unfortunately, our country does not have the required manufacturing capability for such products. Most of the Indian EV makers import cells and batteries from China, which is the world's largest producer of lithium-ion cells.
We have only mentioned the top 5 companies that fall under the list of battery manufacturers in India. Interestingly, Mumbai-based JSW Energy is planning to launch EVs by 2020. For this project, the company is planning to set up a battery factory. In 2019, Bharat Heavy Electricals Ltd (BHEL) announced that it will manufacture and sell ISRO's lithium-ion cells in India. Tata Chemicals Ltd is likely to launch a manufacturing facility for Li-ion cells in Gujarat. There are also reports which state that prominent business groups such as Reliance, Adani, Mahindra, and Hero are also in the race to set up Li-ion battery production plants in India. Thus, we can see that India will soon be able to reduce all imports of this essential EV component.
The Indian government has also introduced a production-linked incentive (PLI) scheme to subsidise the production of Li-ion cells. This would support the companies mentioned above to start domestic production of such batteries. The most important factor to be noted is that EVs could create a $300 billion domestic battery market by 2030. Thus, it is clear that all these companies will have tough competition to grab a slice of this highly-promising market.
We could see these stocks showing a major rally in the long run. Do keep a close watch on these lithium-ion battery manufacturers. Will they be able to deliver on their promise and ensure an adequate supply of batteries for the EV sector? Let us wait and watch.
Post your comment
No comments to display