5 Things Wrong With The Indian Startup and VC Ecosystem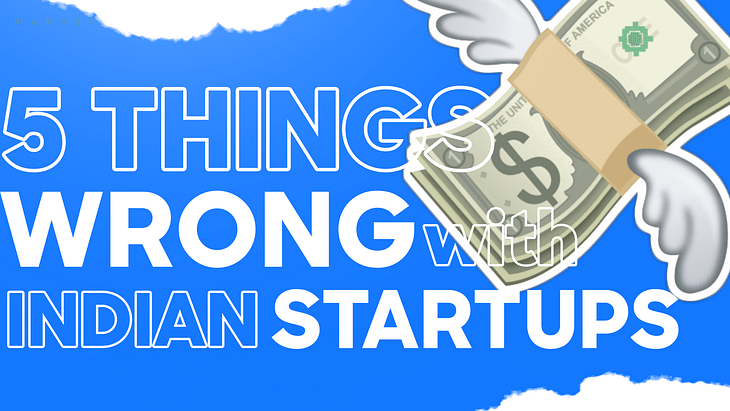 Do you know what's common between OYO, PayTM, BYJUS, and Swiggy? While they have a valuation of greater than $10 billion, none of them are profitable. Startups have for long aimed for valuation and growth. Profitability is far from visible for many unicorns.
Speaking of India's largest IPO turned fiasco, the PayTM IPO. The IPO was oversubscribed 1.89x and ended up listing at a discount, costing investors $900 million in just two days. The party seems to have ended with PayTM IPO, where investors have lost close to 60% of their wealth as of February 2022. Institutional investors and venture capitalists (VCs) offloaded shares right before PayTM's IPO, while retail investors later bore the brunt. Even anchor investors exited the company as soon as their lock-in period ended.
Starting in 2022, there has been a lot of chatter on startups closing down, firing all of their workforces, employees being ill-treated, startup founders being fired for governance issues, and much more. This brings us to a question: what's wrong with the Indian startup ecosystem?
Valuation is King! Not Profit
As of February 2022, India is home to 91 unicorns, and most aren't profitable. While the ultimate aim of a firm used to be 'profit maximization', now it has become 'increasing shareholder's wealth'. It seems like profits are for businesses and startups earn valuation. While sky-high valuation (with no profitability) is something that helps VCs and founders grow their wealth and enterprises, it lays the groundwork for a bubble that could explode once the ecosystem runs out of liquidity.
Customer Is King…At The Cost Of Employees?
Recent startups have had reports of poor human resource (HR) practices. It seems that the entire ecosystem is following a single motto: 'Hire To Grow, Fire To Sustain'. Unicorns like OYO, PayTM, and Byju's have laid off employees without any benefits or even a notice period and violated essential labor laws. Gig workers for unicorns like Zomato and Swiggy often go on strikes and claim to be underpaid.
BYJUS and WhiteHat Jr were in the news after clips of management's misbehavior with its employees surfaced on social media. Pradeep Poonia, a software engineer, exposed malpractices to startups like BYJUS and WhiteHat Jr. through social media.
LIDO, an edtech startup, shut its operations and fired all of its employees without a notice period or prior intimation. The startup closed down nearly 5 months after it raised $10 million. Tiger Global-backed OkCredit fired around 35% of its workforce. On the contrary, the company had planned to 'double its workforce' by the FY22 end. These are not the only reported cases. Most HR malpractices go unquestioned by the ecosystem, making 'hire to fire' a norm in the startup world.
High Customer Acquisition Cost (CAC)
Point blank, Indian startups have a very High Customer Acquisition Cost (CAC). At a seed or early stage, when resources are limited, startups tend to spend way too much on advertising, marketing, and promotion. Eventually, startups end up exhausting their capital on acquiring customers instead of spending more on customer service or product development.
Poor Product and Flawed Business Models
Looking around the startup ecosystem markets, it feels like any product + e-commerce = a million-dollar startup. While e-commerce is the backbone of most successful enterprises, startups fail to understand the backbone of the business. They fail to realize that a product is its best salesperson.
Startups Spread Fast and Fail Faster
Startups intend to spread like wildfire and end up getting engulfed by one. Most startups in today's time want to expand across India. Each area in the country comes with a different set of social, cultural, economic, political, physical, and physiological challenges. Instead of focusing on one area at a time, startups scatter their locations, making it problematic to handle.
Startups have been a hot topic in our country ever since the business reality television series Shark Tank India aired. The general public is more aware that bootstrapped or seed-round startups face challenges. The startup bubbles have started popping, and VCs are now more conscious about practices that could drive a startup down. One can expect startups to have a more disciplined approach and a greater success rate in the next ten years.
What are your views on the current state of the Indian startup ecosystem? Let us know in the comments section of the marketfeed app.
Post your comment
No comments to display