5 Things To Know About Sri Lanka's Economic Crisis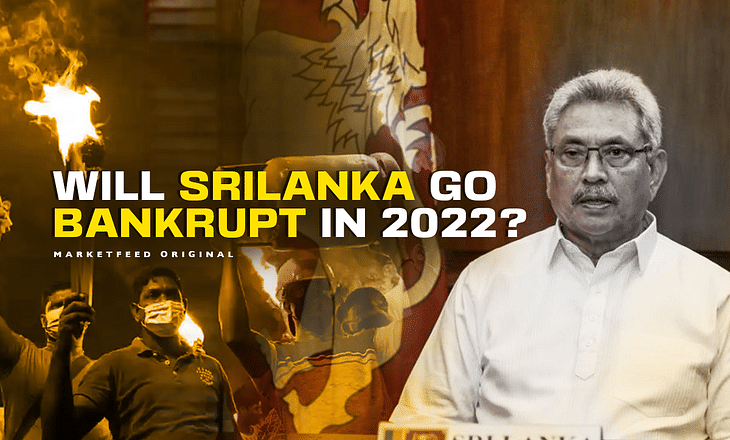 Sri Lanka is facing one of its worst economic crises in recent decades. Videos have surfaced on social media showing scores of protestors clashing against the army and the police. Even the army and police had a violent conflict against each other in one instance. After the entire Cabinet Ministry was dissolved, the newly appointed finance minister of the country resigned within a day of the appointment.
India has close religious, cultural, and social ties with Sri Lanka, yet it has not been India's best friend on economic grounds. The country is currently stuck in a financial crisis and an alleged debt trap laid by China. The economic crisis has been boiling over since 2018, and the incumbent government seems to have done nothing to contain it. What is the economic crisis all about? What does India have in store? Here are five things you need to know about the boiling economic crisis.
Sri Lanka Is Out Of Foreign Exchange Reserves. Retail Inflation Stands At 17.5%.
Sri Lanka has depleted 70% of its foreign exchange (forex) reserves in the past two years. As of February 2022, its forex reserves stood at USD 2.3 billion. The company has pending debt of around ~USD 4 billion in 2022, almost twice its forex reserves. Around ~ USD 1 billion of Sri Lanka's debt is in the form of international sovereign bonds (ISB) maturing in July, most of which it owes to China, Japan, and the Asian Development Bank. The Total or Gross External Debt stands at around ~USD 50.7 billion as of Jan 2022.
The country's retail inflation stands at 17.5 percent, the highest in Asia. Food inflation stands at 25.7 percent. The President of Sri Lanka imposed an emergency on March 30, 2022, to contain protests due to the severe economic crisis. Such an emergency was imposed in August 2021 for similar reasons.
There Is Political Unrest. The Rajapaksa Clan Rules The Country.
The island nation is led by the powerful Rajapaksa Clan. Nepotism seems to thrive, with the Rajpaksas holding influential positions in the cabinet, the government, and the judiciary. Mahinda Rajapaksa is the Prime Minister of Sri Lanka. His younger brother Gotabhaya Rajapaksa, who is now the President of Sri Lanka, was appointed as the Defence Secretary in the past without holding any elections for the post. He controlled the armed forces, the coast guard, and the police. Another brother, Basil Rajapaksa, was the Finance Minister until he was sacked by his own brother Gotabhaya Rajapaksa.
Mahinda's oldest brother, Chamal Rajapaksa, was appointed the Speaker of the Parliament of Sri Lanka between 2010-'15. He later became the Minister of Irrigation till April 2022, when the whole cabinet was dissolved. Mahinda's nephew Shashindra Rajapaksa served as the Chief Minister of Uva from 2009 to 2015. Dozens in the Rajapaksa Clan have held many influential positions in Sri Lanka. Many of them hold citizenship (dual) from foreign countries and yet hold government positions.
After the cabinet was dissolved, all 4 Rajpaksas who previously held ministerial positions refused them in the new government that was formed after the emergency. Reports suggest that there is an internal feud boiling in the family. It seems as if there is a distrust and a subsequent force that could mean an end for the powerful Rajapaksa family.
Sri Lanka Is Running Out Of Power, Fuel, and Food
Sri Lanka has run out of power, fuel, and food. Thousands of people have queued up to buy essential goods. Prices of many commodities like kerosene, milk powder, rice, and sugar have doubled over a year. Sri Lanka has banned the import of fertilizers as well. The government is encouraging farmers to undertake 'Organic Farming'. This fertilizer ban has caused a decline in crop production while impacting farmers' financial conditions. Shortage of food has sent its prices skyrocketing.
The country's inability to generate electricity has resulted in day-long load shedding across Sri Lanka. While India has extended help by lending nearly 200,000 MT of fuel in the last 50 days by Line of Credit, it cannot sustain the country for long.
Sri Lanka is in such a severe shortage of petrol that it has asked the armed forces to guard gas stations after two men collapsed and died while waiting in separate queues to secure fuel.
Sri Lanka is a tourist economy. It depends on tourism and tea exports for dollars. It imports most of its essential items from other countries. After a two-year-long shutdown in terms of tourism because of the COVID-19 pandemic, the country's forex inflow was severely impacted. This, coupled with poor governance and impractical debt overloading by the Rajapaksas, is a significant cause of the financial crunch.
China Has Its Noose Around Sri Lanka. India At A Strategic Disadvantage
China has benefited immensely from Sri Lanka's debt overloading. Close to 10% of Sri Lanka's external debt is owed to China. In fiscal 2020, China beat India as Sri Lanka's top import partner. Although Sri Lanka forms a tiny portion of India's export basket, its location is strategically crucial. In a Sep 2021 issue, we have discussed how China has engulfed Sri Lanka in a debt trap. Read 'Sri Lanka's Economic Crisis And China vs India' to know more.
India Could Be Sri Lanka's Last Resort
India has extended a line of credit to Sri Lanka amounting to ~USD 1.5 billion. It has given a USD 500 million credit line to buy petroleum. It has also helped respond to the balance of payment crisis by extending a USD 400 million currency swap and deferred the USD 515 million Asian Clearing Union (ACU) settlement. Moreover, India agreed to increase its investment in Sri Lanka. While India has come to Sri Lanka's rescue, its biggest partner and lender seem to be turning a blind eye to it. For years China has been giving out unsustainable debt to a country with one of the lowest revenues in the world– at around 8% of its GDP. With China turning a blind eye to the economically distraught country, the wave could favor India.
What do you think of Sri Lanka's economic crisis? Let us know in the comment sections of the marketfeed app.
Post your comment
No comments to display